Running Coach & Health Coach in Colorado
Interview with Michael Wigge on
being a running health coach in Denver and Boulder, CO
-Michael, why do you consider yourself a top running & health coach?
-Wigge: (He breaks out laughing). Well, I guess my clients have to decide if they consider me a top running coach in Denver & Boulder, Colorado, or rather a mediocre one.
-If you were mediocre, probably not many clients would book you, right?
-Wigge: Actually no one would book me, but running coaches, and health coaches have to have an outstanding level, otherwise no one really needs them. That's why it can be hard to stay in the business, but those who do have the most wonderful profession you could ever imagine.
-What makes you a great running & health coach in Denver, Boulder, Colorado?
-Wigge: I think the most important aspect is to be a healthy and endurance person who might have overcome certain personal and physical challenges before. In my case, I worked hard to create the life I always wanted, and this pretty much allowed me to become a running coach and motivational speaker in my second career. I currently run amazing trails with my clients in along the front range, but I also support endurance running in Summit County for breathtaking trail around Breckenridge, and Frisco.

 -How does that life look like?
-Wigge: First of all, I wanted to live somewhere I would really be happy and be able to trail run whenever I wanted. That's one reason why I moved from Germany to Colorado. Germany is awesome, I love it. But I felt that Colorado with its nature, mountains, positive life attitude and friendliness is the right place for me as a long distance runner. I also love the friendliness, the natural beauty of Colorado, and as a trail runner, I can't wait to be back in the mountains for the next run in between my coaching work as a life coach.
But I also worked hard on being healthy. I live a healthy diet as vegan, lost 25 pounds years ago, always work on my stress management, and I keep a healthy social life. I also worked hard on overcoming personal challenges. As a child, I had a severe stutter, and I couldn't speak in public. This has obviously changed after pushing me in front of crowds as a speaker over the last 30 years to become an inspirational speaker.
I remember, that I was not very sporty as a child. But I started track and field as a teenager in Germany and became one of the best 1000 meter runners in the youth section of my state. I guess, that started the dream of becoming a running health coach in Denver, Boulder in Colorado one day.  It's possible to change behavioral patterns, and our health situation if we try leaving our comfort zone over and over again.
Actually back to food, I remember being a heavy meat eater, and disliking veggies. My current diet is mainly based on greens, and I sincerely love them. We can change all kind of mechanisms if we decide to do so. Certain supplements can be beneficial, too.

-Wow, that is so interesting. But are these all your patterns you changed?
No, there are more. To prepare myself to become a health & running coach in Boulder/Denver, Colorado, I also worked on my stress management. Years ago, I didn't often allow myself regular breaks at work, a normal pace in my work, and I always had way too much on my plate. I realized the stress symptoms like a burnout/depression at one stage. Things take time, but nowadays I walk slower, eat slower, put less on my daily plate of work, and I sleep way better. Sometimes old patterns may come back, but a constant practice keeps them in that little box somewhere in my mind where they belong to.

I also worked hard on my ability to be able to embrace change. This is something challenging for all of us. I remember experiencing the change from analog self-marketing to digitized self-marketing. Working with SEO strategies, newsletters, and social media seemed to be so frustrating, especially after I had great PR from my TV shows for over 15 years. PR seemed to be automated. The phone rang, and TV shows first in Europe and later on also in the US asked me to come on the show after a new adventure challenge I had faced, like me being invited on The Tonight Show in 2013.
The required change management with digitized marketing was immense. I felt blocked of making the necessary changes, didn't want to leave my comfort zone first. But I pushed through it, learned new marketing strategies, and here I am with a strong online marketing.
-What did your adventure challenges teach you to become a top coach in Colorado??
All these adventures like 'Traveling the World for Free' or 'Trading Up Around the Globe' taught me the following
To really believe in myself
The better set my goal

To overcome my fears
To be able to stay out of my comfort zone
To become a positive person
To always do what I love to
To never give up
To build and lead teams
To become resilient
-What advice would you give to others?
-Wigge: If you'd like to become a coach, be inspirational in the first place. Look at your life, and change what is needed for growth. Go through the ups and downs of change. Go for your goals, and don't listen to pessimists. Surround yourself with optimists, and just forward your positivity to others.
You will attract what you're looking for: A career as a running & health coach, either in Boulder or Denver, Colorado, or somewhere else in the world. 
Warmest regards. Michael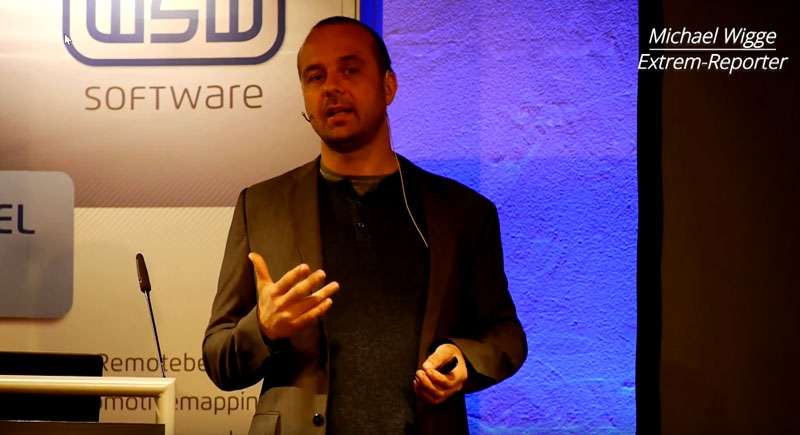 Coaching Video – Michael Wigge
How to self-market and earn enough money as a Denver/Bouldder running health coach?
It took me a while to learn how to get the marketing rolling to finally get enough coaching jobs. When I started as a coach, I was wondering why the phone did not ring. No one called, no E-mail request, no one outside the building trying to find my door to be coached. What was wrong? Basically, I thought that a website would do the job. And it just doesn't if no one finds it. I figured out four strategies on how to spread the word.
Word by mouth
SEO Google ranking
Newsletter
Social media
Active referrals and reviews

1. Word of mouth seems to be the most straight forward marketing strategy. You do great work, help your clients to embrace change, and you make them leave as happy clients. You don't want them to think that they burned money on some coaching sessions with some dude who calls himself a health coach. No! If your work is solid, and you're passionate and educated on how to coach your clients, they will recommend your services to their friends and family. This way you naturally grow your circle of clients without any extra marketing activities.
2. SEO Google ranking can be pretty helpful. If someone googles "running health coach in Denver/Boulder", and you're number one or number two, you'll easily get job bookings. But SEO top rankings can be a lot of work, because Google has many factors that influence a website's ranking, and because ranking factors constantly change. One day on top of the Google search results could mean number seven or eight the next day. But if you accept to invest some work into it, and constantly stay ahead of the Google game, it's definitely worth the work, especially when you come into your office in the morning, open your E-mail account, and you find a new client request, who found you on Google. In my experience, this is the situation when things really start to become fun.
3. Newsletters are great for people who left their E-mail with you – possibly after finding you on Google – but who haven't booked you. They might receive a monthly newsletter from you about your latest activities and offers, and possibly one day they decide to finally get into your coaching practice.  Many of my clients received newsletters from me before booking me as a running health coach in Boulder or Denver. Clients often need to take their time to build up trust, and to understand if they actually need a coach, a trainer, or a good friend. A regular and well maintained newsletter strategy may be the choice to help with building up trust.
4. Social media can be great, but without the right strategy it can also extremely disappointing. I remember myself posting my coaching offers on Facebook, and being really disappointed that no one booked me. It took me a while to understand that people don't often buy on social media like Facebook. They go there to connect with friends and family, and to get some free information. So, it's good to offer something for free first, like a webinar or an E-mail course, or to invite them to your newsletter. This helps to build up trust, and when the time is right, they might want to benefit from your coaching offers. The free service first works like great reviews to finally get paid jobs for your services later on.
5. Active referrals is an expression I developed myself, because I remember myself waiting for referrals. But sometimes people agree to refer you to others, but basically forget about it, since life can be pretty busy. I started to remind them actively. I started sending polite E-mails, asking them if they could refer me to some other people. Sometimes I make a barter deal: The last coaching session half price if they make three serious referral attempts. This can definitely help. One client asked me to help him finding a relationship therapist or counselor after we finished our coaching sessions. I helped him finding the right person, he helped me with the right referrals and reviews.
I hope I could give you a first inside on how to self-market as a running & health coach in Boulder, Denver – Colorado
How to Become a Life Coach in Colorado, AZ, & Utah! Thanks for your interest. Feel free to share this blog!

Yours, Michael Wigge