Change Management Speaker
Change Management Keynotes & Workshops
How to reach your goals by embracing change in the business world
25,000 miles adventure around the world for free with change management speaker Michael Wigge
Change management in the business world – How to embrace new technology
Analysis of the change management cycle: Shock, frustration, depression, acceptance, integration
How to bring your vision to life through constant change
Important tips and tricks for successful self-motivation while embracing change
Challenge for Change – the only requirement: Leave your comfort zone
"Maybe we could, someday…" or "We should do it, but…" are two phrases often said; yet for so many, everything remains the same. Our dreams and desires can sometimes seem like unachievable targets.
Change management speaker, award-winning author, and German-native, Michael Wigge, easily transforms his visions into reality. Internationally recognized for his TV shows and books, Wigge traveled without a single penny to the end of the world; a total of 25,000 miles from Europe to Antarctica.
Wigge on The Tonight Show
Each day on the road,  change management speaker Michael came up with creative solutions to create opportunities for cost-free food, accommodations, and transportation. He worked as a butler for an ambassador in Panama, couch surfed in the homes of strangers, and for a small fee performed with hand puppets or offered amusing services, such as pillow fighting and being a human bench – he constantly embraced change to succeed!
Tonight Show guest, humorist, and change management speaker, Michael Wigge, entertains audiences with his outrageous and incredible stories. He shows that it can be fun to strive for challenging goals by embracing change in the corporate world. The sky is the limit—and even more can be reached! The TV adventurer  teaches that with an open mind to leave our comfort zone, incredible outcomes will result. He demonstrates that innovative thinking, relentless positivity, and leveraging unique competitive advantages will enrich your life.
Is Change Management Worth the Struggle?
Courage and constant change are required to bring your dreams to life, as well as being unconventional and sometimes even a little crazy. As an expert in applied creativity—and in a humorous, yet practical way—change management speaker Michael Wigge shows that the pay off for acting on a vision can be enormous. His investment for another breath-taking roller coaster ride around the world – ′How to Barter for Paradise′, was just an apple. After making spectacular deals all over the planet, he finally made his dream of a house in Hawaii come true.
The motivational change management speaker believes to achieve any goal, you must have the right mental structures as a foundation. The change management speaker learned as a former MTV reporter to think laterally in order to access extraordinary opportunities: He was ultimately able to make a celebrated appearance with Katy Perry on The Tonight Show with Jay Leno. The award-winning reporter is convinced that everyone can turn their wishes into reality even if at first they seem impossible. Drawing from his proven track record, he explains his experiences and philosophies in this hilarious keynote speech and workshop on change management and applies his unique approach to everyday life. The keynote rings true to Michael's motto: "Challenge-4-Change". His coaching angle "Challenge-4-change" is highly recognized in leadership and life coaching. Wigge's formula gives audiences and clients an incredible strategy on how to embrace change by a comfort zone-leaving lifestyle. Feel free to view his TEDx talk for more information on Wigge's comfort zone-leaving exercises throughout his entire life. With his challenge-4-change concept, you'll embrace any kind of change necessary! Change management speaker Wigge is serving all major meeting destinations in the US and Canada with keynotes.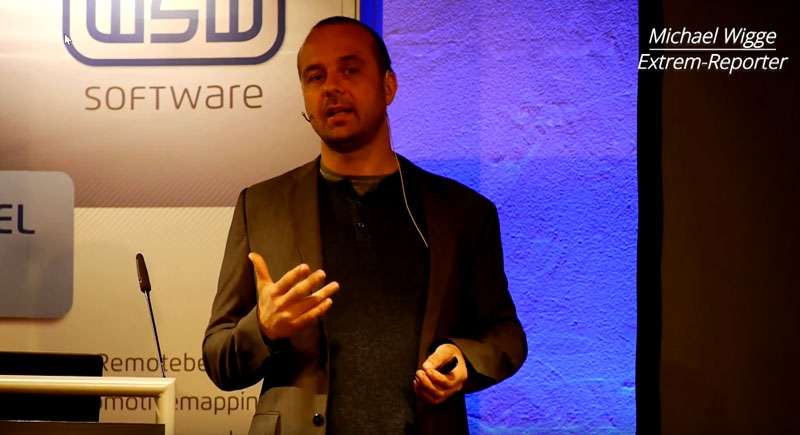 Speaker Reel Michael Wigge
Change Management Speaker Michael Wigge on Business Development
When did you decide to start speaking?
Michael: During my challenges, I first wasn't really aware of the lessons I learned while traveling. I was just trying to make things happen without really thinking about my personal and professional development. In 'How to Travel the World for Free' I basically had to survive on the road without money for accommodation, food, and travel to make it 30,000 miles to Antarctica. In 'How to Barter for Paradise' it was the same story. I might have reflected that I was constantly acting out of my comfort zone, but I didn't think further ahead in terms of learning how to become one of the new speakers. Just two years after these two challenges, I sat down and reflected on personal development, my lessons I learned on leadership, sales, and mainly on change management.
During those adventures, I had to constantly embrace change to achieve those goals. I remember, that I had to act out an endless amount of different roles during my trip around the world without money. One day, I had to be the funny guy to entertain people and to get food for free. Other days, I had to be most trustworthy, a good listener, or develop creative ideas to make things happen. This happened in constantly changing settings, in cities, on the road, in the US, on a container ship, or just somewhere in the rain forest. Change was the key to success. I sat down after the trip to reflect on all lessons I learned on change management. Finally, I realized that this is something I should forward on stage to the corporate world – I became one of the internationally recognized change management speakers! Nowadays, the BigSpeak Speakers Bureau supports my keynotes. I am in touch with many corporate leaders nowadys on how to get the best performance combined with a healthy work culture. This can be a challenge, especially in times of change. But most of my corporate events turn out to encourage staff, executives and entire leaders for higher performance,  better change, and a healthy work culture.

Washington DC; Austin, Texas; Charlotte, NC North Carolina; Denver, Colorado; Miami, Florida; Dallas, Texas; San Diego, CA; Las Vegas, Nevada;  Seattle, Washington;  Minneapolis, Minnesota; Jacksonville, Florida; Detroit, Michigan; Salt Lake City, Utah; San Francisco, California; Phoenix Arizona;  Nashville, Tennessee; Boston; Miami, Florida, Kansas City; Famous; TED; Business