Motivational Leadership Speaker
Motivational Leadership Speaker Wigge:
Developing Extraordinary Leaders in 2020
How Motivational Leadership Speaker Michael Qualifies:
Among the top 20 motivational leadership speakers in the US


Unique appearances, such as on The Tonight Show

Keynotes on leadership for CEOs, managers, management staff, and executives

Incredible audience entertainment

Free challenge leadership books for all meeting participants 

Get your free quote before booking any speakers
Motivational Leadership Speaker – Video Reel
Motivational Leadership Speaker Keynote
Motivational Leadership Speaker's L for Listening
Master the art of active listening, identifying where, when, and how much. Learn what the world's greatest leaders do to impact history. Garner the courage to make mistakes in order to grow and increase your influence. Learn from a leadership keynote speaker on how one's own failure can be the key for growth and success.
Motivational Leadership Speaker's E for Embracing Change
Learn how to challenge yourself to turn fear of change into a desire for change. Great leaders embrace change for personal and professional growth, to satisfy their customers, and to keep the company environment exciting and motivating for their employees.

Motivational Leadership Speaker's A for Assisting
As a leader, it is your job to help others understand the bigger picture, help them define their individual contributions to larger business objectives, and give them what they need to meet those clearly communicated performance goals. Assist with generosity and lead with courage.
Motivational Speaker's D for Deciciveness
Great leaders are decisive. They are able to decide between people vs. position, influence vs. authority, action vs. words, and vision vs. money. Keynote Speaker Wigge makes a clear case for why a focus on people, influence, action, and vision will always be the winning strategy.
Motivational Speaker's E for Entertainment
Strong leaders are often good entertainers, and people usually like to work with humorous leaders. Humor builds trust, boosts morale, supports creativity, and works as a stress reliever. A Robert Half survey found that 91% of executives believe a sense of humor is important for career advancement, while 84% feel that people with a good sense of humor do a better job.
Motivational Speaker's R for Relating to Others
Successful leaders are connectors. Two-thirds of respondents in a CCL study stated that "building and maintaining relationships is a critical competency for leadership." Learn how strong relationship skills and influence are vital for leadership success.
Motivational Leadership Speaker on Stage
Are you looking to lead more effectively as a business owner or chief executive? As an influencer in your organization, do you envision developing great leaders through the ranks to improve teamwork, productivity, innovation, and problem solving?
Motivational leadership speaker & keynote speaker Michael Wigge's Challenge for Change – Leadership Success keynote and workshops inspire the leadership greatness inherent in every individual.
From his experiences as a challenge seeker in international media, this leadership keynote speaker has learned the secrets of leading through extraordinary circumstances to achieve incredible goals.
Known for his Challenge-4-Change programs and his appearances on the Today show & The Tonight Show, this motivational leadership speaker embraces astonishing challenges head on to make the impossible happen. By implementing his fundamental keys of leadership success, motivational leadership speaker Wigge has a portfolio of several adventure challenges. He converted a bitten apple into a home in Hawaii in 42 amazing exchanges (as documented in his book and TV show: How to Barter for Paradise). He also traveled the entire world without any money for food, transportation, and accommodation (as described in his book and on his PBS show: How to Travel the World for Free). Hollywood star Angelina Jolie named him "a strange but fantastic man" when she met Michael during his time as an MTV host in Europe. And the Los Angeles Times called him "the ultimate budget traveler."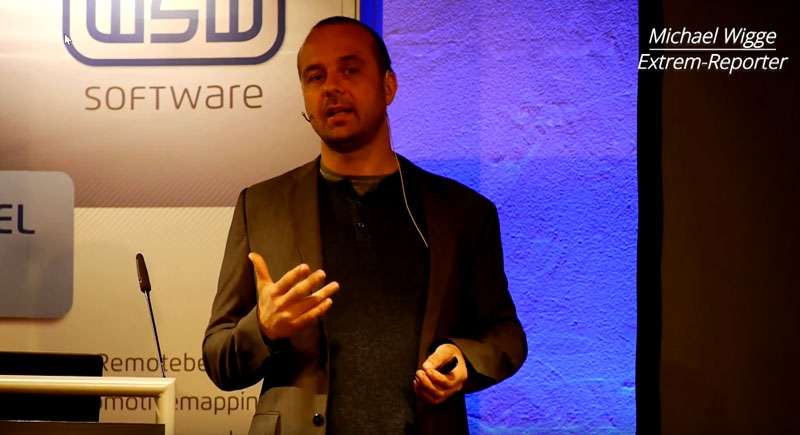 Wigge on The Tonight Show
Motivational leadership speaker Wigge's Challenge for Change: Leadership keynotes are built on strategies proven through overcoming the extraordinary. Throughout his multiple series of documented challenges, the leadership speaker implemented several key leadership principles:
Being a great listener to communicate effectively across cultures
Perfectly navigating the tension between stability and change
Actively assisting others to complete ambitious and visionary projects
Honing his decision-making skills to become an action-oriented influencer
For a fresh and creative approach to leadership success, tap into the world of the motivational leadership keynote speaker (leadership, sales, motivation, and change) and learn how you can develop extraordinary leaders throughout your organization. The award-winning author serves  multiple locations in the US and Canada, and he often travels to Europe to serve leadership keynotes and workshops in Switzerland, Germany, the UK, and Austria. Contact the speaker now to get a free quote and his availability for the next few months.
Interview with Michael on his career as a Motivational Leadership Speaker & Keynote Speaker.
How did you become a leading Motivational Leadership Speaker?
Michael: I worked as an adventurer and travel writer for more than 15 years for the international book and television market. My stories specialized in challenges I faced during my trips. Is it possible to travel the world for free? Is it possible to turn an apple into a house by bartering for bigger and better things? Could I travel across 50 states in 50 days and face 50 challenges – one in each state? There's a portfolio of seven different adventure challenges I faced, and all have one element in common: I had to leave my comfort zone to challenge myself for change. That's why I work with the slogan Challenge-4-Change.

Looking back at these comfort zone-leaving exercises, I realized that I had to learn and apply certain leadership traits that corporate leaders usually need to be successful in their job, such as team building, empathy, decisiveness, goal orientation, the ability to constantly leave one's comfort zone, networking, and being a good listener, an entertainer, and a role model.
I wrote down all the lessons I learned. I then developed my Challenge-4-Change Leadership Program, which I deliver as a keynote & motivational leadership speaker all around the world. Although adventure travel and corporate leadership seem to be far apart, they require very similar personality traits! The BigSpeak Motivational Speakers Bureau for Speakers has more information on my background and event bookings.

Washington DC; Austin, Texas; Charlotte, NC North Carolina; Denver, Colorado; Miami, Florida; Dallas, Texas; San Diego, CA; Las Vegas, Nevada;  Seattle, Washington;  Minneapolis, Minnesota; Jacksonville, Florida; Detroit, Michigan; Salt Lake City, Utah; San Francisco, California; Phoenix Arizona;  Nashville, Tennessee; Boston, Kansas City; Video Speaker; TEDSpeaker; Business,  Speaker Wanted; College Motivational; Change Management; Leadership Speaker; Sales Success; Professional Speaker; Top Inspirational; Conference Motivational; High School Motivational; Comedic Motivational.