Minneapolis Motivational Speaker
Motivational Keynote Speaker for Minneapolis & Saint Pauls, Minnesota
Have you been through countless speaker bureaus but feel like you aren't any closer to finding a suitable motivational speaker in Minneapolis, Minnesota or Saint Paul in the Twin Cities? Maybe difficulties communicating with agents have left you feeling unsure about your choice, misunderstood, or overcharged? You may feel doubtful talking to a top motivational keynote speaker, and you struggle to express your budget clearly. Perhaps you already had a great motivational speaker in Minneapolis, Minnesota. But would she or he be the right choice this year? Would you like to have a great meeting with an awesome Minnesota motivational  keynote speaker? Let keynote speaker Wigge help you!
Michael's Minneapolis Motivational Speaker Program:
One of the most thrilling speakers in Minnesota
Amazing background stories with his adventure self-experiments
Keynote angles especially designed for your corporate event
Great humor
Seminar trainings, roundtable discussions, and more
Free and signed books for all
Get a free quote now
Minneapolis, Minnesota Motivational Speaker Reel – Michael Wigge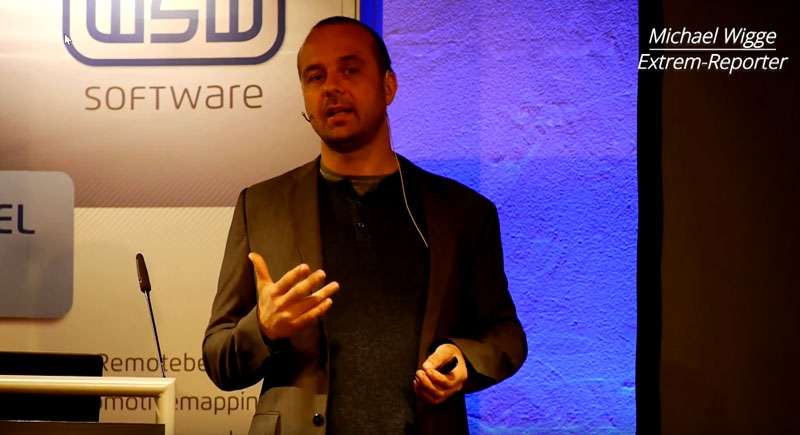 Wigge on The Tonight Show

How Does Wigge Qualify as Top Motivational Speaker in Minneapolis, Minnesota?
During his 15 years as a professional challenge seeker for the international media (ZDF Germany, PBS, NBC) with incredible challenges like How to Travel the World for Free and How to Barter for Paradise, Minneapolis, Minnesota keynote speaker Wigge learned that having a strategic plan (and the determination to persevere) is the most important contributor to success. In his five years as a Minneapolis, Minnesota motivational speaker, he has seen that the answer to every challenge is available inside of you—if you're willing to do the work to discover it. With his help and through applying his Challenger Concept (MWCC), your audience in Minneapolis can find their passion, create a plan, and practice the skills they need to be successful. The keynote & motivational speaker in Minneapolis, Minnesota provides keynotes for clients from the US and around the world. Get a free quote on Michael's programs now!
Minneapolis Motivational Speaker Wigge: "Many Corporations Face Leadership Challenges"
Establishing long-lasting, successful leadership is a challenge almost every business struggles with. Pressures from clients, competitors, and changes in the market can create conflict in leadership. Additionally, as leadership has increasingly shifted toward embracing intercultural and intergenerational traits, our perceptions around leadership and how to lead teams have also changed.
Regardless of your leadership challenges, there is help. Keynote & motivational speaker Michael Wigge in Minneapolis, Minnesota can support your meeting and conference with inspiring leadership tools for your audience.
As your motivational speaker, he has a different approach to support his clients than many other speakers. His clients are encouraged to leave their comfort zone to face their personal challenges after his keynotes. This leads to personal and professional growth and the ability to overcome any type of personal challenge. The award-winning author and speaker might make your audience work hard, but he has a high success rate in creating change!
In his keynote sessions, he provides entertainment, guidance, and support as your Minneapolis, Minnesota motivational speaker! Personal reflection and increased self-awareness are the processes Wigge supports as your audience becomes more inspired and aware of how they can improve their own leadership. Everyone will learn to decide, listen, assist, network, and embrace change for a more successful future. As you work together, this motivational speaker in Minneapolis & Saint Pauls will help your entire audience feel motivated and inspired, leaving each participant with new ideas about how they can improve their leadership skills.
If you're interested in working with motivational speaker Wigge but your location or schedule won't allow for you to meet him in person, the Gigsalad and BigSpeak speaker offers you a complimentary phone consultation session. He also offers free information via email.
You may also choose to review his corporate event reviews on this site!
Feel free to reach out to keynote speaker & motivational speaker Wigge—who is part of the Gigmasters and Bigspeak roster—for all major meeting destinations: Minneapolis or Saint Paul, Minnesota and nationwide. He recently spoke about his How to Travel the World for Free book at the Minneapolis Convention Center,  1301 2nd Ave S, Minneapolis, MN 55403, USA, phone +1 612-335-6000. More information on Minneapolis and Saint Paul for your conference can be found here, as recommended by author Michael:
Minneapolis is the largest city in Minnesota and located on the waterfront of the beautiful Minnesota River. Together with St. Paul, they build their famous reputation as the Twin Cities. The Twin Cities metropolitan area is the largest metropolitan area in the north-central region with a population of 3.3 million. Although Minneapolis is much larger than St. Paul, the state capital is actually St. Paul. Feel free to use some recreational downtime during your conference visit experiencing the Minneapolis Skyway. This incredible indoor walkway system connects 70 blocks of downtown buildings in the heart of Minneapolis.
The Twin Cities population also has a great reputation for being warm and kind. 40% of all adults in the Twin Cities are statistically involved in volunteer work, the highest percentage in the United States. This warm feeling makes a stay in the Twin Cities an unforgettable experience. Saint Paul motivational speaker Michael Wigge's choice for perfect accommodation is usually the Loews Minneapolis Hotel on 601 N 1st Ave, Minneapolis, MN 55403. This centrally located hotel combines great comfort with incredible service and a highly recommended restaurant.
Have a great stay and a perfect conference in the Twin Cities!
Washington DC; Austin, Texas; Charlotte, NC North Carolina; Denver, Colorado; Miami, Florida; Dallas, Texas; San Diego, CA; Las Vegas, Nevada;  Seattle, Washington;  Minneapolis, Minnesota; Jacksonville, Florida; Detroit, Michigan; Salt Lake City, Utah; San Francisco, California; Phoenix Arizona;  Nashville, Tennessee; Boston, Kansas City; Video Speaker; TEDSpeaker; Business,  Speaker Wanted; College Motivational; Change Management; Leadership Speaker; Sales Success; Professional Speaker; Top Inspirational; Conference Motivational; High School Motivational; Comedic Motivational.