Motivational Speaker Wanted?
Hello & Welcome to My Motivational Speaking Site
My keynote offers for the United States:
Highly experienced motivational speaker for corporations, associations, and colleges
Tonight Show and Today Show guest, travel show host on PBS
Former celebrity in my home country Germany
 Four challenge books on 'How to Travel the World for Free', 'Trade Up Around the World'
'Europe Blindfolded', 'Germany on a Razor Scooter'
International TV career with high-entertainment jobs
Several times winner of several awards for speakers
Amazing keynotes and seminars on change, leaderships, sales, goal setting, and peak performing
A Top Keynote Speaker Wanted with a background of amazing adventure challenges?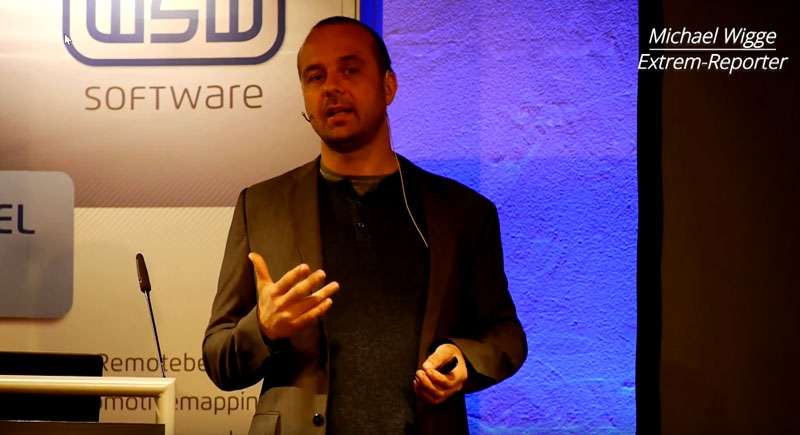 Motivational Speaker with Full Keynote on Stage
Interview on Being a Successful Motivational Speaker with a Challenge Background
Michael, why do you consider yourself a great motivational speaker?
-Wigge: (He breaks out laughing). Well, I guess my clients have to decide if they consider me a top motivational speaker, or rather a mediocre one.
But you really wanted to become a top motivational speaker, right?
-Wigge: Actually no one would book me if I was mediocre on stage, but motivational speakers have to have an outstanding level, otherwise no one really needs them. That's why it can be hard to stay in the business, but those who do have the most wonderful profession you could ever imagine.
What makes you a great motivational speaker?
-Wigge: I think the most important aspect is to be an inspiring person who might have overcome certain personal and professional challenges before. In my case, I worked hard to create the life I always wanted, and this pretty much allowed me to become a motivational speaker in my second career. I currently travel to six countries to deliver my challenge-4-change keynotes on change, leadership, sales, and motivation.
How does your life look like in your home base Denver, Colorado?
-Wigge: First of all, I wanted to live somewhere I would really be happy and be able to trail run (my hobby) whenever I wanted. That's one reason why I moved from Germany to Colorado. Germany is awesome, I love it. But I felt that Colorado with its nature, mountains, positive life attitude and friendliness is the right place for me as a runner and motivational speaker. I also love the friendliness, the natural beauty of Colorado, and as a trail runner, I can't wait to be back in the mountains for the next run in between keynotes and seminars.
But I also worked hard on being healthy. I live a healthy diet as vegan, lost 25 pounds years ago, always work on my stress management, and I keep a healthy social life.  I also worked hard on overcoming personal challenges. As a child, I had a severe stutter, and I couldn't speak in public. This has obviously changed after pushing me in front of crowds as a speaker over the last 30 years to become an inspirational speaker.
I remember, that I was not very sporty as a child. But I started track and field as a teenager in Germany and became one of the best 1000 meter runners in the youth section of my state. I guess, that started the dream of becoming a motivational speaker in the United States one day.  It's possible to change behavioral patterns, and our health situation if we try leaving our comfort zone over and over again.
Actually back to food, I remember being a heavy meat eater, and disliking veggies. My current diet is mainly based on greens, and I sincerely love them. We can change all kind of mechanisms if we decide to do so. Certain supplements can be beneficial, too.
Interesting. But are these all your patterns you changed?
No, there are more. To prepare myself to become a motivational speaker in the US, I also worked on my stress management. Years ago, I didn't often allow myself regular breaks at work, a normal pace in my work, and I always had way too much on my plate. I realized the stress symptoms like a burnout/depression at one stage. Things take time, but nowadays I walk slower, eat slower, put less on my daily plate of work, and I sleep way better. Sometimes old patterns may come back, but a constant practice keeps them in that little box somewhere in my mind where they belong to.
I also worked hard on my ability to be able to embrace change. This is something challenging for all of us. I remember experiencing the change from analog self-marketing to digitized self-marketing. Working with SEO strategies, newsletters, and social media seemed to be so frustrating, especially after I had great PR from my TV shows for over 15 years. PR seemed to be automated. The phone rang, and TV shows first in Europe and lateron also in the US asked me to come on the show after a new adventure challenge I had faced, like me being invited on The Tonight Show in 2013.
The required change management with digitized marketing was immense. I felt blocked of making the necessary changes, didn't want to leave my comfort zone first. But I pushed through it, learned new marketing strategies, and here I am with a strong online marketing.
You wanted to become a motivational speaker, and you did. What else have you changed?
All these adventures like 'Traveling the World for Free' or 'Trading Up Around the Globe' taught me the following
To really believe in myself
The better set my goal
To overcome my fears
To be able to stay out of my comfort zone
To become a positive person
To always do what I love to
To never give up
To build and lead teams
To become resilient
I always reached out and asked for help to any kind of group I could learn from to grow. This broadened my view on the world and on personal development. This enabled me to develop a unique life and serving company events around the globe.
What advice would you give to others?
-Wigge: If you want to be a motivational speaker,  look at your life, and change what is needed for growth. Go through the ups and downs of change. Strive for your goals, and don't listen to pessimists. Surround yourself with optimists, and just forward your positivity to others.
You will attract what you're looking for: Being a motivational speaker means having an inspirational life.
I learned in life that people see, learn, and find. Always stay open for listening and learning!
Warmest regards. Michael
Washington DC; Austin, Texas; Charlotte, NC North Carolina; Denver, Colorado; Miami, Florida; Dallas, Texas; San Diego, CA; Las Vegas, Nevada;  Seattle, Washington;  Minneapolis, Minnesota; Jacksonville, Florida; Detroit, Michigan; Salt Lake City, Utah; San Francisco, California; Phoenix Arizona;  Nashville, Tennessee; Boston, Kansas City; Video Speaker; TEDSpeaker; Business, Speaker Wanted; College Motivational; Change Management; Leadership Speaker; Sales Success; Professional Speaker; Top Inspirational
Motivational Speaker Michael Wigg on Stage
Washington DC; Austin, Texas; Charlotte, NC North Carolina; Denver, Colorado; Miami, Florida; Dallas, Texas; San Diego, CA; Las Vegas, Nevada;  Seattle, Washington;  Minneapolis, Minnesota; Jacksonville, Florida; Detroit, Michigan; Salt Lake City, Utah; San Francisco, California; Phoenix Arizona;  Nashville, Tennessee; Boston; Miami, Florida, Kansas City; Famous; TED; Business; Conference Motivational; High School Motivational; Comedic Motivational;