How to Travel the World for Free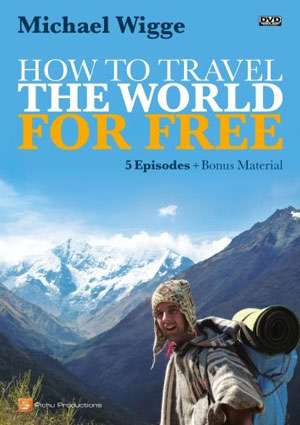 This is the unbelievable attempt of  speaker and seminar trainer Michael Wigge to travel 25,000 miles from Europe to Antarctica -without any money.
Throughout his journey, Wigge immerses himself in fascinating subcultures, sleeps on the street with homeless people and nourishes himself with flowers.
With the help of over 100 people Wigge manages to acquire free food, free accommodation and free transportation for his 150-day journey across four continents and eleven countries. Wigge also delivers motivational keynotes in Germany.
This unusual travel diary combines adventure with humorous situations and insightful interviews about people's relationship with money.
A must for every travel and adventure fan …
EXTREME BACKPACKING!
Read more about the crazy things Wigge did to obtain free food and accommodation:
Part 1 "Everything is Different"
Michael Wigge sets off in Germany without any money. His travel companions along the way are socialists, freegans and the eccentric millionaire Harold. Working on a container ship, Wigge crosses the Atlantic Ocean free of charge. Will he make it to the New World without money?
Part 2 "Burger, Bikes & Boors"
Michael Wigge sleeps in Montreal free of charge as a couchsurfer. After walking through Ohio, he reaches the tiny village of Berlin, where Amish farmers take him in and let him sleep in their barn. After a grueling tour by bike and bus, Wigge spends several days with homeless man Joseph. Will Wigge manage to get further West?
Via route 66, Michael Wigge hitchhikes to the Grand Canyon and to Las Vegas, where he tries different approaches to earn food and transport. He meets millionaires, gamblers and tourists. After Los Angeles and San Francisco, Wigge lives in Hawaii with alternative lifestylers – all without money, of course.
Part 4 "No Dinero – 'Mucho Problemo'"
The travel without money takes Wigge through Costa Rica, Panama and Columbia, where living and traveling without money is particularly difficult. In Peru, he visits the Inca town of Machu Picchu free of charge as a load carrier. Now he suffers from a streak of bad luck. Will he have to cancel his journey?
Part 5 "Totally Exhausted"
After difficult times in Bolivia, Wigge travels to Chile without any money. From there, he hitchhikes to Buenos Aires in Argentina. But rather than dancing the Tango, he has to find food and a means to travel on. After a difficult journey through Tierra del Fuego, Wigge accepts the long-desired position on a ship to Antarctica. Will he finally reach Antarctica without any money?