Stress Management Seminars
Stress Management Seminars & Workshop for Employees 2019/2020!
Award-winning trainer Michael Wigge and his coaching firm CMW offer high quality stress management seminars, training, and workshops for employees – nationwide!
Fast facts on Michael's stress management seminars:
Top experienced trainer, ICF-certified coach, and entrepreneur


Unique employee training based on the CMW stress management program

Interactive seminar elements


Check reviews to see success rate of almost 90%




Challenge books for all employees

Top 10 US seminar provider in 2019
Are your employees experiencing signs and symptoms of intense stress? Maybe long working hours have affected your staff? Has your corporation gone through an intense process of change that may have caused stress-related symptoms for certain employees? Would you like to improve your employees' stress management to avoid absenteeism? Certified trainer Michael Wigge and his CMW coaching team have developed an intense stress management concept for employees and managers. Clients from all over the United States have benefited from the one and two day programs to enable their staff to manage stress levels with helpful tools and techniques. The proven CMW stress management program contains a three-step-strategy to overcome high levels of stress.
This program is based on three pillars:
 Instrumental Stress Management
 Cognitive Stress Management
 Regenerative Stress Management
Further details on these stress management seminars, training, and workshops for employees/managers can be found below.
"The CMW coaching team successfully helped our staff overcome stress levels and find great joy in their work. Thanks so much for the training."
Sandy Meyers, CPTL

Stress Management Seminars, Training, and Workshops for Employees
The CMW program is a unique and successfully-proven tool to use as the core of stress management seminars, training, and workshops for employees. Its three pillars offer the corporate employee a 360-degree stress management review to avoid and handle work-related stress.
The first pillar 'instrumental stress reduction' focuses on how to create a better structure, set boundaries for others, avoid procrastination, better network, and prioritize. These aspects of instrumental stress reduction usually give employees and managers a very helpful initial set of tools to balance occurring stress.
The second pillar 'cognitive stress reduction' focuses on influencing our mental cinema. How much stress can occur because of thoughts and apprehensions? Cognitive stress reduction focuses on how to turn problems into chances, improve our acceptance of reality, develop an inner distance to conflicts, and overall develop a basic positive mindset for a successful and balanced life.
Our seminars and workshops for staff and managers intensively focus on its third pillar of 'regenerative stress reduction.' Health and stress management are closely related, and trainer Michael Wigge discusses with workshop participants how to deal with workout, diet, nutrition, mindful relaxation techniques, personal breaks in between work, and their own personal interests. All these factors add up to a successful stress management program!
The First Pillar of the Stress Management Training
Instrumental stress management usually builds the groundwork of our stress management training for employees. We usually reflect with your staff on self and time management strategies.
How well and structured do you plan your daily schedule at work?
How do you structure your day in terms of self-management?
Are you using any specific tools?
The ability to set boundaries is another key part of this reflection. Setting boundaries at work can be seen as a huge challenge for many employees because boundaries are often closely related to conflict and rejection. Our tools help your staff better balance their own boundary setting with their personal self-management.
This area of our stress management seminars, training, and workshops for employees also focuses on further education. Further education can be an enormous tool for stress relief. How many opportunities for further education are being used by individuals in your institution? What are the hurdles and obstacles for your staff in obtaining further education?
Last but not least, this first part of our stress management training, workshops, and seminars also deals with the employees' capability for good networking and resourcefulness.
The Second Pillar of the Stress Management Program
The second pillar of the program deals with the cognitive aspect of stress reduction. Our stress management seminars, training, and workshops for employees give a detailed structure on the cognitive effects of stress levels.
Our trainers use techniques and tools with your staff to improve their acceptance of reality. How often do we feel stressed out because we simply don't like to accept fixed circumstances? This especially plays a huge role in corporate change processes. The ability to accept the process often offers a successful start for stress reduction. Throughout life, we all face challenges that teach us the ability to focus on solutions instead of the problem itself. This ability is another helpful tool for cognitive strength.
Our stress management seminars, training, and workshops for employees offer a wide range of techniques on how to constantly improve acceptance of reality as part of a successful program. CEO and trainer Michael Wigge's specialty in this field is his work on belief sentences. Negative belief sentences  – hidden in the back of our minds – can lead to unused potential, fear, and stress. He works with your staff through belief sentences and helps all workshop participants learn how to rewrite them in a positive context to overcome stress!
The Third Pillar of the Stress Reduction Program
Regenerative stress reduction rounds up the 360-degree aspect of our stress management seminars, training, and workshops for employees. It's essential to look at each person's personal health situation to gain positive control over one's stress levels.
Our seminars help your employees better understand their diet, workout options, and health aspects of their lives as related to their stress levels. Studies have already shown that an improved diet, 30 minutes of walking a day, and weight loss usually lower stress management levels by 25%. If employees add relaxation techniques to their lifestyle, this third pillar of our program alone can halve the experienced stress level!
Feel free to reach out to the CMW coaching team and our head coach Michael Wigge to get more information on our stress management seminars, training, and workshops for your employees and managers.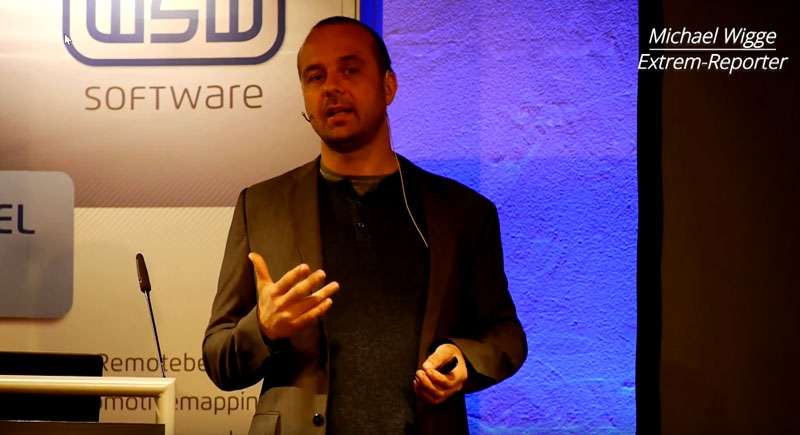 Coach Michael Wigge on Stage