Find Your Life Coach (English/German) Online (Video Chat) and for Boulder and Denver CO
Would you like to find a certified online life coach with systemic solution-oriented skills? Michael delivers effective online coaching sessions for his national and international clients and onsite sessions in Boulder and Denver, Colorado to help you overcome your obstacles.
Which personality traits would you like improve to feel content? How do you handle aspects like fear, shyness, low self-esteem, goal setting, relationship building, resilience and stress management? Would you need support in personal and professional career change?
Online life coach Michael Wigge offers help for you to live a successful and fulfilled life and to improve your change management, stress management, relationship building, self management, and motivational skills based on his incredible challenge experiences.
Michael has personally implemented out-of-the-box adventure challenges through television programs and publications, such as 'How to Travel the World for Free' (PBS TV show) and 'How to Barter for Paradise' (Skyhorse Publishing). These self-imposed adventure challenges have helped Michael face his own obstacles by leaving his comfort zone again and again.
Find Online Life Coach Support:
Challenge-4-Change coaching in English and German
Certified by the International Coaching Federation (ICF)
Find online life coach experience with a success rate of over 80%
Clear distinction between counseling, consultation, and professional coaching
Solution-orientation with focus on a positive lifestyle, happiness and success
Wigge is considered an expert in facing challenges to leave one's comfort zone and grow
Motivation, time management, change management, stress elimination, and more
Wigge: "All people have unmistakable potential that has yet to be discovered!"
Money back guarantee after first session
Zoom, Skype, phone options + new coaching software
Over 300 satisfied coaching clients and top reviews from other coaches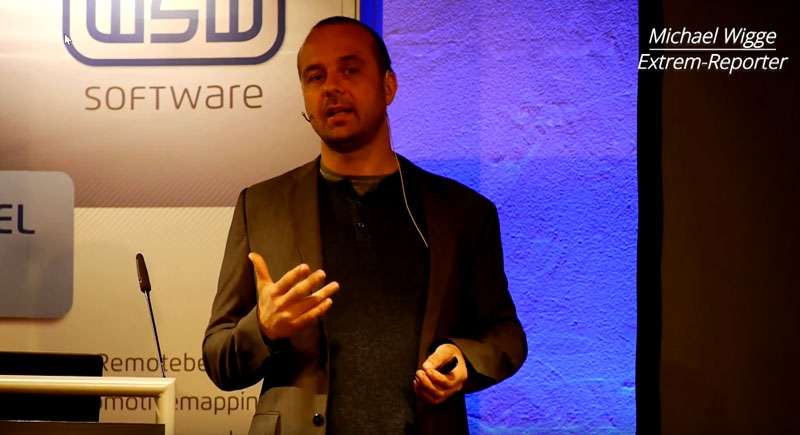 Find Online Life Coach Intro Here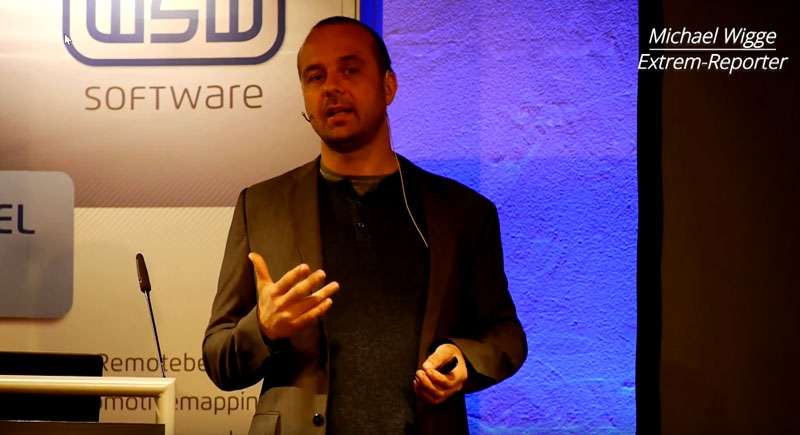 Find Online Life Coach on Stage
'Online life coach Michael Wigge has found the right solution-oriented strategies to support me in my career transition. Thanks, Michael'
Carl Kraemer – Reading PA

Find Your Online Coach – Here More Detail:
Find the Right Online Support
In his adventure projects, online life coach Michael set himself ambitious goals again and again, left his comfort zone, faced his fears, and looked ahead with his goals in mind to finally achieve his dreams. Online life coach Wigge passes all his expertise on to his clients. His success rate has grown completely out of his own experiences so that coaches can authentically learn about his strategies and attitudes. Wigge's work style reflects his background creating TV projects and challenge books. An online life coach with highly recognized value!
Aspects You May Deal with During the Coaching Program:
Change management
Achieving life, health, and career goals
Life management success
Overcoming obstacles and limiting beliefs
Self-motivation
Self-confidence, self-esteem
Stress management
Time management
Goal setting techniques
Resilience
Self-leadership
Relationship improvement
Gaining positivity and solution orientation
Peak performance
Financial improvement and success
The PBS television docu-series How to Travel the World for Free received the Accolade Award, and the book of the same title achieved the incredible:
Online life coach Michael Wigge found himself invited on The Tonight Show together with singer Katy Perry (2012)!
Through the coaching session, you will receive unforgettable insights and aspects of personal development as well as peak performances from Wigge's repertoire related to change management, leadership, stress management, goal setting, fear facing, time management, and motivation.
Find Your Top Online Life Coach!
Through Wigge's coaching program, you will gain clarity about your life goals because there are many things to find out, such as identifying goals, spotting obstacles, developing strategies to overcome unwanted "stuff", establishing a work-life balance, managing finances, and more! It can help if the right online life coach communicates with you about your most important goals. You have the option to book additional CHALLENGE-4-CHANGE sessions one by one, no long-term program.
The online life coach has gained ample experience to be considered outstanding. Throughout his 15 years being successfully self-employed as a speaker, trainer, and coach, he has gained important experiences and knowledge. In 2002, he started a career as a VIVA international presenter (then MTV, ZDF, and WDR in Germany). From 2005 onwards, he produced his own TV shows, such as Travel the World for Free and How to Barter for Paradise. In 2011, he started his CMW Coaching & Speaking business in Germany and the United States. His seminars and keynotes include topics, such as "7 Strategies of Motivation Success", "3 Ways to Successfully Handle Stress," and "4 Strategies to Embrace Any Given Change." If you are not convinced, please have a look at Wigge's TEDx Talk on this page. He talks about how to overcome fears and hurdles in order to achieve change and goals via a high level of motivation.
The latest projects of the online life coach have been broadcast on WDR. Fifty States of Wigge—50 States in 50 Days and Germany by Scooter in 80 Days can be found under the TV and Books menu item. Find out how much the award-winning reporter has left his comfort zone to achieve his goals and strive for change. For the TV program, Stern TV, on RTL in Germany, he set himself another challenge by traveling through European metropoles wearing a sleeping mask over his eyes: an almost unbelievable challenge. Here again, he faced his fears and showed how to overcome hurdles.
Michael works as a life coach with a systemic coaching background. His corporate topics are handled with an agile leadership style. The speaker gives lectures and seminars on topics of motivation and inspiration all over the United States.
This award-winning and well-known motivation coach has been booked more than 200 times so far in Germany, Austria, and Switzerland and over 200 times in the U.S. and Canada with his successful motivational training. If you are looking for a German- or English-speaking motivational trainer and online life coach, Michael Wigge can enrich your life and business with innovative impulses and bring about lasting change to you.
Due to his positive and humorous manner and an intensive follow-up (handouts, e-mail communication), you have the opportunity to drive changes independently as much you want. After successfully completing a coaching program, Wigge also offers seminars and individual coaching to continue the change process. Satisfied clients have left positive reviews of the coach's and speaker's appearances under the Reviews menu item. Convince yourself through seeing how clients have evaluated his work.
Throughout My-challenge-coach.com, you will find keynote speeches and seminars. You will also find client references. The keynote lecture "Challenge-4-Change Leadership Success" has been especially well received by associations and insurance companies in America as Wigge's mixture of motivation and entertainment appeals strongly to North American audiences. Many corporate clients in the German-speaking and English-speaking markets book Michael's keynotes together with free books for all participants of the event.
For a better impression of the speaker's and coach's work, please click on Wigge's TEDx at the end of this page. The well-known motivational trainer describes how to overcome fears in order to better accept change. In this TEDx Talk, he goes through his own life to show how small alterations in attitudes toward change can strengthen us so that digitization, globalization, and change management can be achieved.
If you have any questions or are interested in his coaching program, please contact the well-known online life coach immediately!
Final Thoughts on Finding your Coach
"Learning solution-oriented communication was very important for the success of my projects," describes the online life coach. When he traded up from an apple to a house in Hawaii, a great deal of sensitivity was required for every exchange in different countries since cultural differences demanded different ways of communication. "Pictorial language, intermediate tones, and patience were the keys to success for me. Thorough positivity and clarity brought me repeatedly to success."
As a result, sensitivity to solution-oriented communication seems to be one of the major traits to help life coaching clients, which Wigge has intensively practiced in his career.
Life Coach Wigge delivering TEDx Talk on Stage