Boulder Life Coach for Colorado
Is it difficult for you to find a good life coach in Boulder, Colorado? Are you looking for a career coach who may support you in your professional development? The solution: Boulder-based life coach and speaker Michael Wigge!
What Does Michael Offer You as a Life Coach in Boulder?
One of the top life, health, relationship, and career coaches in Colorado
Unique CHALLENGE-4-CHANGE coaching program
ICF certified
Sessions with humor and motivation
Over 300 satisfied clients with five-star ratings
Awarded with the Excellence Award
Get help with systemic solutions-oriented strategies
Distinction between coaching, counseling, therapy, and consultation
Referrals to therapists and psychologists if needed
With Wigge as a top Boulder life coach, you can look forward to an unforgettable development during his three-month program, which works on:
Goal setting
Facing fear and obstacles
Leaving one's comfort zone
Finding orientation and clarity
Health, career, mood improvement
Self-esteem, self-confidence
Financial situation
Relationship building
He skillfully discusses your emotional situation in the context of your personal goals.  The Boulder life coach has a systemic coaching background and is well-known through his unbelievable television adventure challenges, like How to Travel the World for Free (PBS) and How to Barter for Paradise (NBC). His coaching strategies build on the out-of-his-comfort-zone challenge experiences from his past. This work is based on his TV career, his own personal development, and his training as a certified coach for the International Coaching Federation. Many people know his challenge projects from PBS or from his appearances on The Tonight Show and the Today show. This Boulder life coach loves to face ambitious challenges to grow professionally and personally.
Projects in which Michael traveled to the end of the world without money and bartered items for bigger and better things (to get a house in Hawaii!) gave him opportunities to experience:
Leaving his comfort zone
Facing fears
Dealing with loneliness
Improving relationship building
Improving listening skills
Better understanding goal-setting strategies
Constantly embracing change
Mastering time management and stress management
Preventing burnout symptoms under high pressure
This life coach is looking forward to offer you a free 15-minutes phone consultation to clarify questions and to share how he transfers his life experiences to you for your benefit.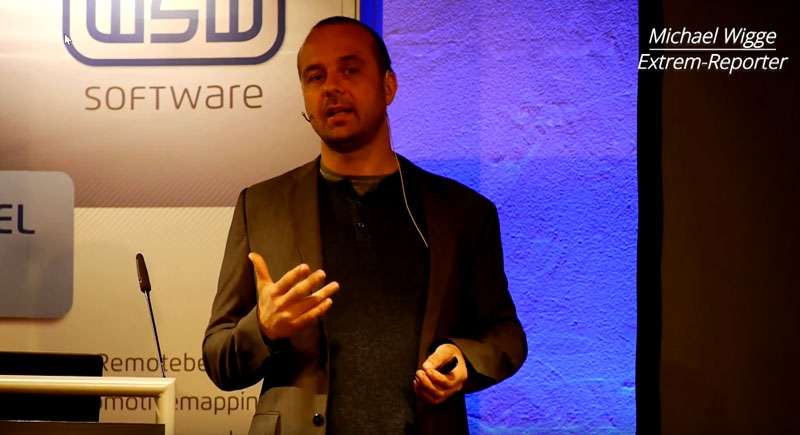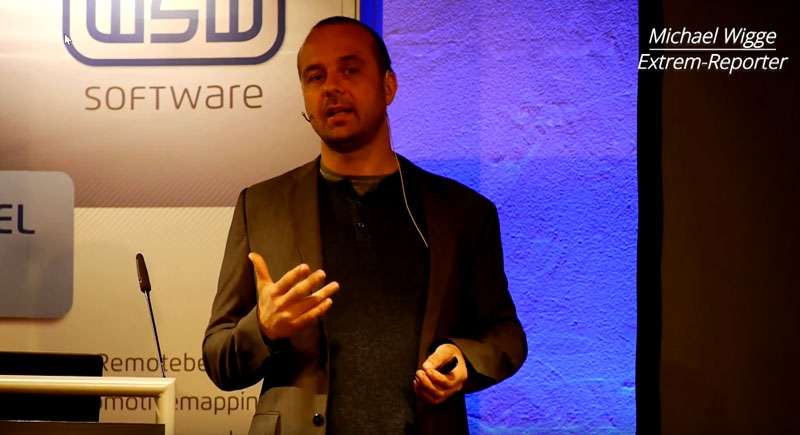 Boulder Life Coach on Stage
'Boulder Life Coach Michael Wigge has successfully supported me in a peak performance process. Thanks, Michael
Cindy Kane – Boulder, CO

More about the Boulder, CO Life Coach:
Boulder Life Coach and his Specialty
The motivational trainer and speaker on change, sales, motivation, and leadership skillfully combines his intercultural experiences, having been to over 90 countries so far. Wigge vividly explains how we can learn to stay outside our comfort zone without having to fend it off and find it annoying. In his successful Challenge-4-Change concept, the top Boulder life coach explains how the willingness to change can be learned if one is prepared to face up to one's fears. In his keynotes, the award-winning life coach draws up the detailed Challenge-4-Change strategy plan and shows private individuals, executives, and workforces how this can lead to enormous change. Wigge's adventure-challenge projects also flow strongly into his work, which in turn are mixed with company topics on leadership, change management, sales, and motivation. Examples of his background can be found under the TV and Books menu item.
Michael's background includes the TV show How to Travel the World for Free, which was proposed for the Accolade Award. His book of the same title was at the top of the travel book chart list for more than two months. This Boulder life coach is also a welcomed guest on talk shows in the U.S. and Germany. He was a guest on German TV shows, like Circus Halligalli, ZDF Fernsehgarten, NDR talk show, and TV Total. In the U.S. he was invited to the world-famous Tonight Show sharing his out-of-the-box and out-of-his-comfort-zone challenge experiences with the public.
In his latest projects, he has traveled through 50 U.S. states in 50 days and covered 2,500 miles on a kick scooter in 80 days.  For the television show Stern TV on RTL in Germany, the award-winning Boulder life coach traveled across Europe wearing a sleeping mask and thus faced an unbelievably difficult challenge.
Another insight into Wigge's work can be found in his TEDx Talk, held by the keynote speaker in Boulder, Colorado. Here the speaker talks about how to overcome fears. In this TEDx Talk he describes how he started off leaving his comfort zone as a child in order to embrace change (without really being aware of it at that young age). The adventurer challenged himself with his former school friend to face new challenges in which he had to face his fears. This training was the basis for an incredible change process in overcoming his childhood symptoms of having a stutter.
After he overcame his stutter at the age of eight, Michael moved on to face further challenges. It is incredible to see that Wigge as a child  was affected by a strong stutter and that today you may see him on stage in front of hundreds of people. This example illustrates the results you can achieve if you agree to leave your comfort zone and overcome your fears. Book and visit the Boulder life coach for:
Boulder home visits
Online and phone consultations
Coaching in his mountain home between Boulder and Golden, CO
As a top speaker on the topics of change, stress management, sales, motivation, and leadership, Michael Wigge uses his knowledge from corporate America to skillfully pass on motivational aspects to private life coaching clients in Boulder. Within the 60-minute solution-oriented and systemic coaching sessions, you will experience a thought-provoking process to gain clarity and inspiration in overcoming challenges and obstacles.
The prominent speaker Wigge works as a challenge coach and therefore has the necessary background and qualifications to bring the right strategic plan to you.
More of the Boulder Life Coach and his Background
The latest projects of this prominent speaker are 50 States of Wigge and Germany by Kick Scooter in 80 Days. These shows were broadcast on ARD Einsfestival in Germany and published as books around the world. The prominent speaker Wigge solves a new task in his latest challenge: life coach Wigge had to travel through European metropoles with his eyes blindfolded!
Interview with Michael on his Background
How did you come up with these zany ideas?
Michael Wigge: It all started when I wanted to go on a trip around the world but had no money. After some time, the idea came to try this trip around the world without money. After six months of planning and half a year of traveling, I had made my way to Antarctica with a lot of energy and ideas. It was a unique experience to travel 25,000 miles around the world without money. Since then, I have held my motivational lectures more than 150 times in cities, such as Denver, Boulder, Cleveland, Los Angeles, Hamburg, Berlin, Munich, Frankfurt, and Vienna.
Shortly after Antarctica, I had the idea to think about another travel challenge. I simply went according to my wishes and desires—always with the goal to push my boundaries further away to shift my comfort zone. I always had the childhood dream of owning a house in Hawaii. Would it be possible to barter an apple for bigger and better things to finally get a house in Hawaii on another trip around the world? This turned out to be a journey through 14 countries, which started with an apple in Germany.
Then I had the desire to finally get to know Germany. Would I be able to make the slowest journey through Germany to get to know every detail of my home country? I thought of a kick scooter challenge. 2000 miles on the scooter in 80 days across the whole of Germany? It was obvious to me that this challenge would be difficult, but I really wanted to make it and trained three months on that scooter. The journey through Germany was incredible, but there were many ups and downs like weather, mountains, my back, and many other unexpected hurdles. But I can tell you one thing: it was a unique experience to discover Germany and myself during the challenge!
Another travel lecture is already waiting for its publication. I drove through all 50 U.S. states within 50 days, a total of 15,000 miles. In each of the 50 states I had to face a challenge that was related to the state. In Arizona, for example, I had an hour to sprint down from the edge of the Grand Canyon to its lowest points. With the given heat and the incredible size and depth of the Grand Canyon, it was extremely difficult. So I spent 50 incredible days turning the U.S.A. upside down. This travel talk will be called USA Extreme—50 States, 50 Days.
I learned the challenger mindset and have turned this into my lifestyle, and so can you!
Yours,
Michael Wigge
Please let Michael know if you would like to be referred to other personal development services, like therapy sessions, mentoring sessions, or adult counselors.