Detroit Motivational Speaker
Motivational Keynote Speaker in Detroit and Toronto
Are you looking for a motivational speaker in Toronto or Detroit to inspire your executives and your employees on change management, sales, leadership, or motivation?
Motivational Speaker Michael Wigge:
Top experienced keynote speaker in the Northeast
Also serving: Cleveland, Cincinnati, Buffalo, and Madison
Unique publicity, including The Tonight Show and PBS
Outstanding keynotes, seminars, training, and coaching
Best entertainment and fun onstage
Free personally-signed books for everyone at your conference
Free speaker's quote for your public events
Five star reviews in the review section
Do you feel good about your upcoming event, but you're looking for something further toward motivating your staff for your business' success? Successful leadership requires many qualities. You have to be decisive, thrive on change without losing composure, and be helpful and a good listener while also pushing those you supervise to take on bigger challenges—all while making sure your business succeeds.
Having a great Detroit and Toronto motivational speaker & keynote speaker at your conference can give you new perspectives and help your entire association or company see what many leaders have a tendency to overlook. In a 60-minute keynote, a breakout session, or an entire workshop, Detroit and Toronto motivational speaker Michael Wigge will clarify your pain points, raise your performance goals, and forward your action plan to all meeting participants toward creating the future you want for you and your company. Having that inspirational kind of clarity not only gives everyone a game plan for the future but also greatly reduces stress and provides a source of energy for you and your team. This Detroit and Toronto top motivational speaker delivers on change management, leadership, sales, stress management, self management, time management, and motivation throughout the US and Canada.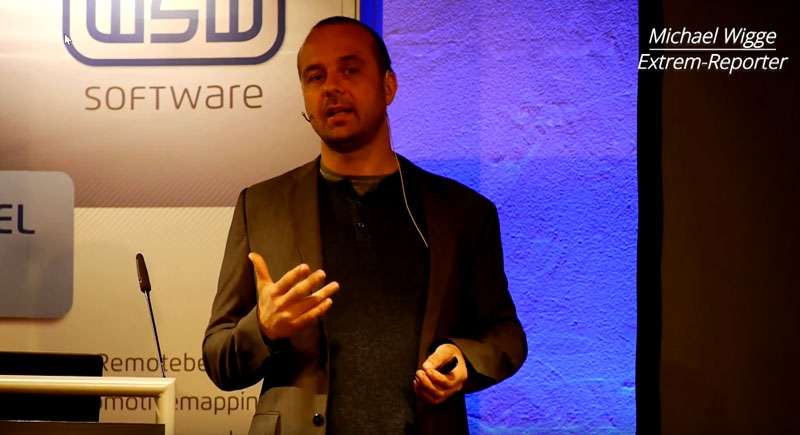 Wigge on The Tonight Show
How Does the Motivational Speaer Inspire in Toronto and Detroit?
Wigge's keynotes are based on his adventure challenges he faced for the international media. How to Travel the World for Free and How to Barter for Paradise are two of his best selling books.
After each keynote, the motivational speaker for Toronto and Detroit delivers additional information and handouts related to the keynote topic. This is where the rubber meets the road, and you put what the motivational keynote speaker has presented into action. Let's say your executives find certain generations challenging to lead. In that case, Wigge would formulate solution-based information to address that. Growth never happens until you leave your comfort zone and challenge yourself in new ways. Challenge-4-Change is the attitude that makes great leaders and helps them leave an impact on their world. Top motivational speaker Michael Wigge delivers his keynotes in Toronto, Detroit, and all throughout the US and Canada. Check out his great reviews from his public events!
Serving as Motivational Speaker in Detroit, Cleveland, Cincinnati, Buffalo, and Madison
Keynote speaker Michael is a serial entrepreneur and author of four books, who started as a TV host for MTV in 2002. He set up his television production company in 2005 and produced TV shows, such as How to Travel the World for Free for PBS. This Toronto and Detroit motivational speaker has personally hosted all of his programs while staying true to one common theme: Leave your comfort zone and grow!
He has been leading his Challenge-4-Change leadership and keynote programs since 2011. His most popular keynote addresses are "Challenge-4-Change: Leadership Success" and "Challenge-4-Change Sales Success."
Feel free to contact him for detailed information for your Toronto and Detroit conferences!
More Information on Toronto and Detroit for Meeting Planners
Michael Wigge loves both Detroit and Toronto, and he usually enjoys some recreational time when speaking for a conference in either city. His favorite places to visit are outlined below along with some fun facts about both cities:
Actually, Detroit is the only US city north of the Canadian border. This sounds kind of wrong but is true. Being in town, just check out the geography and enjoy your stay north of the border (while still in a country south of Canada). And it's just a short drive into Canada via the Ambassador Bridge. Detroit has the legendary title of Paris of the Midwest. Although you won't find the Eiffel Tower in the city, you'll be able to explore historic buildings from the 1930s that will remind you of the old days with the glamour and spirit of Paris. Detroit's 987-acre Belle Isle Park is known to be the United States' largest island park and a perfect place to stroll around between conference meetings and seminars.
This Detroit motivational keynote speaker usually stays at the Crown Plaza Detroit Downtown Riverfront Hotel on 2 Washington Blvd., Detroit | Michigan | 48226 | United States | 1-313-9650200. This sky rise hotel offers the comfort, service, and view you would desire after long conference hours. Michael's keynotes are usually delivered in different Detroit conference locations like the Cobo Center on 1 Washington Blvd Detroit, MI 48226.
Toronto is one of Michael's favorite conference cities because of the endless opportunities the city has to offer. Toronto has a population of 5.6 million people and is the fifth largest city in North America. It may be hard to believe, but Toronto actually has more days of sunshine each year than most sunny places in the Caribbean or California. 301 days of sunshine have been counted in Toronto on average each year. Toronto was voted the world's second friendliest business city after Hong Kong because it offers a great atmosphere for business in North America combined with a high standard around quality of life.
Toronto motivational keynote speaker Michael Wigge usually stays at the Sheraton Centre Toronto Hotel for conference gigs at 123 Queen St W, Toronto, ON M5H 2M9, Canada +1 416-361-1000 because it offers conference members the necessary surroundings to unwind and relax. You might hold your conference at the Metro Toronto Convention Centre on 255 Front St W, Toronto, ON M5V 2W6, Canada. It's a perfect commute from the Sheraton Hotel to the convention centre, which enables you to see the most beautiful parts of the city.
Gigmasters and Bigspeak provide the best reviews on Michael as a speaker-talent for corporate and public events in Toronto, Detroit, and around the US.

Washington DC; Austin, Texas; Charlotte, NC North Carolina; Denver, Colorado; Miami, Florida; Dallas, Texas; San Diego, CA; Las Vegas, Nevada;  Seattle, Washington;  Minneapolis, Minnesota; Jacksonville, Florida; Detroit, Michigan; Salt Lake City, Utah; San Francisco, California; Phoenix Arizona;  Nashville, Tennessee; Boston, Kansas City; Video Speaker; TEDSpeaker; Business,  Speaker Wanted; College Motivational; Change Management; Leadership Speaker; Sales Success; Professional Speaker; Top Inspirational; Conference Motivational; High School Motivational; Comedic Motivational.