Would you like to find a motivational speaker in Salt Lake City & Park City, Utah?
SLC keynote speaker, Michael Wigge, helps you have the most outstanding conference!
Motivational keynote Speaker for Salt Lake City, Utah:

One of the leading speakers in Salt Lake City, Utah
Breathtaking background stories with adventure challenges, and high performance
Corporate keynotes with a range of angles
Professional entertainment during speeches
 Trainings, coaching, and workshops
Challenge books for free to everyone of the conference
Request a free quote for your corporate event booking
Are you looking for a great motivational speaker in Salt Lake City, Utah? Keynote Speaker Michael Wigge can help! Do you feel challenged to find the right service provider for your next corporate team meeting or convention? Are you seeking for a speaker who can inspire to embrace real change in your organization? And do you like to find an outstanding, funny motivational speaker in Salt Lake City, Utah?
Michael Wigge – Salt Lake City SLC, Utah Keynote Speaker

Wigge's Qualifications as Top Keynote & Motivational Speaker in Salt Lake City, Utah
If you are interested in or preparing a large meeting in Salt Lake City or Park City, Utah, motivational speaker Wigge can develop a detailed and fun keynote concept to help you have the best conference possible – and without turmoil. Top motivational speaker Michael Wigge can also provide your audience with helpful strategies to face the challenges you may experience in your organization. With his challenge-4-change keynote program, Wigge tackles leadership, change management, and sales challenges, and motivates your audience to leave their comfort zone to overcome obstacles like fear. Feel free to view his five star reviews on his recent keynotes in Salt Lake City, Utah and in Park City.
As a self-employed professional challenge seeker for the past two decades, the keynote speaker & motivational speaker understands the challenges of conferences, meetings, and events in Salt Lake City and Park City. Events need to be entertaining to keep up the attention and atmosphere of the crowd. The keynote speaker  has served more than 200 conventions in English and German as one of the top motivational speakers. The SLC keynote speaker and TV adventurer's dedication and a strategic approach, can help set up an entertaining meeting as an unforgettable event for your entire company.
As part of his international television career (PBS, The Tonight Show), he challenged himself to travel the world without money and bartered his way from an apple to a house in Hawaii. Michael has always lived his professional dreams, but it took enormous struggle and dedication to make his  motivational keynote business work to a level of international success. In his role as a challenge seeker and motivational speaker, he has developed highly entertaining keynotes, suitable for different kind of events in Salt Lake City, Park City and around Utah. He delivers that special message to achieve any kind of goals, and the sky's the limit! Motivational speaker Michael Wigge turns your Salt Lake City, Utah event into a major success! Request your free quote for your upcoming events now!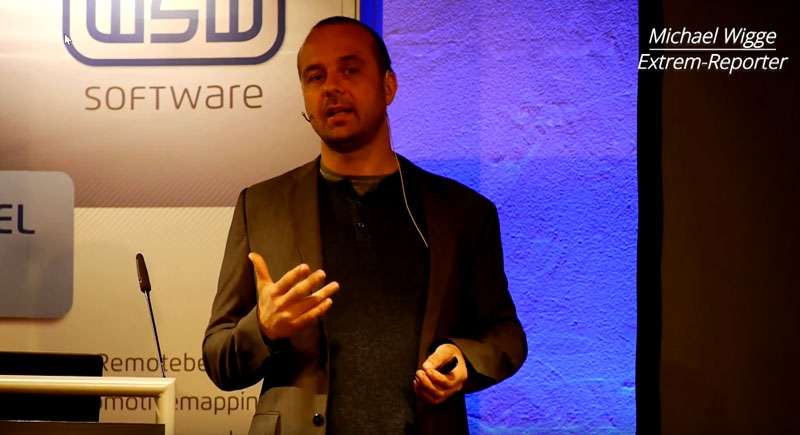 Wigge on The Tonight Show

Make Sure Your Next Event in Salt Lake City, UT Will Be the Best One Ever!
If you are ready to begin working towards that meeting where you can feel satisfied, successful and supported – or if you have additional questions about Wigge's motivational keynotes – he encourages you to schedule a free 15-minute consultation on his keynotes.
Many Remember their Meeting in Salt Lake City as Outstanding
Many individuals feel overworked during meetings and, to an extent, stressed by tight schedules. It is often said that attending conferences on a regular basis can have an exhausting effect on people. Limited time and/or lack of entertainment can leave many people feeling stressed and unsatisfied. Booking a supportive motivational speaker in Salt Lake City, Utah can help!
Motivational Speaker in Salt Lake City, Utah & Park City
The first step in improving leadership, sales, change, and motivation, is to communicate with your staff to identify their values, passions, and believes. Wigge very often recognizes certain fear spreading around a workforce in times of change management. The Salt Lake City, Utah motivational speaker forwards the right message on stage to everyone being held back by fear: Leave your comfort zone and confront all weaknesseses and fears with his challenge-4-change tools! Wigge's success rate with over 80% tells an incredible corporate success story! As keynote speaker in Salt Lake City, he also can highly entertains the crowds and helps everyone discover within themselves incredible energy and power they need to pursue their business goals.
Keynote Speaker Wigge – who is part of the 'Gigmasters and Bigspeak' team roster – is serving all major meeting destinations for conferences in Utah and nationwide. He recently spoke at Salt Palace Convention Center, 100 S Temple, Salt Lake City, UT 84101, USA, Phone: +1 385-468-2222. Michael's tips and recommendations for your stay in SLC: His favorite hotel to recommend is the Sheraton Salt Lake City Hotel on 150 W 500 S, Salt Lake City, UT 84101, USA. This beautiful city hotel perfectly combines  a central stay but within reach of Salt Lake City's amazing nature and outdoors opportunities. The hotel itself offers amazing views from your room right on those beautiful mountain ranges around town.
Do you have time off during your conference stay? It would be worth checking out some incredible landmarks around town. Salt Lake City's elevation is about 4,300 feet and nestled in a mountain valley between the Wasatch Mountains and the Oquirrh Mountains. There are endless miles of beautiful trails for hiking around town. The airport is located just ten minutes from town, an easy drive to and from your hotel. Salt Lake City county has a population of 1.1 million inhabitants, which equals about a third of the residents of entire Utah. There are beautiful towns and places around the capital like Park City (30 minutes drive). If you visit Salt Lake City during winter times, you could also choose from one of the many ski resorts.
Feel free to check Michael's reviews from known leaders, his books sales, his entertaining videos, and his TEDx Talk on YouTube.
Enjoy your stay in Salt Lake City, and we'll hope you'll book one of the best speakers, the motivating expert, and award-winning talent Wigge!
Washington DC; Austin, Texas; Charlotte, NC North Carolina; Denver, Colorado; Miami, Florida; Dallas, Texas; San Diego, CA; Las Vegas, Nevada;  Seattle, Washington;  Minneapolis, Minnesota; Jacksonville, Florida; Detroit, Michigan; Salt Lake City, Utah; San Francisco, California; Phoenix Arizona;  Nashville, Tennessee; Boston, Kansas City; Video Speaker; TEDSpeaker; Business, Speaker Wanted; College Motivational; Change Management; Leadership Speaker; Sales Success; Professional Speaker; Top Inspirational; Conference Motivational; High School Motivational;