Phoenix Motivational Speaker
Motivational Keynote Speaker for Phoenix AZ, Scottsdale & Tucson, Arizona
Award-winning motivational speaker for Phoenix, Tucson & Scottsdale, Arizona Michael Wigge is a remarkable personality and outstanding, authentic keynote speaker around the country. Wigge is known to many as a German TV celebrity and Tonight Show guest. In his arousing presentations, he shares vivid insights with his keynotes on leadership, sales, motivation, and change. With highly entertaining examples, the Phoenix, Arizona motivational speaker also shares from his lifetime of incredible roles as a comedian for MTV, a team player and travel writer who traveled through 80 countries, CEO of television production company Pichu Productions, and TV host in Germany with outstanding self-experimental projects, like How to Travel the World for Free and How to Barter for Paradise. Through sharing astonishing stories about his professional experiences, audiences of all types—from students to high achieving individuals, to top-level decision makers—learn that everyone can reach their goals and improve his or her career.
What Phoenix AZ Motivational Speaker Wigge Offers You on Stage:
A thrilling overview of Wigge's most unusual and successful challenge projects
Insight into thinking outside the box to reach goals, achieve sales, and embrace change, motivation, and leadership
Exploring passion, belief systems, strength, personality, and purpose
Explaining how creative ideas can spark innovation in developing new business models
Describing why thinking outside the box is so crucial for companies and individuals today
Discussing how satisfied employees make a company succeed
Strategies on achieving goals by one of Phoenix, Arizona's best motivational speakers
Free quote from Michael for your event booking
Motivational Speaker Reel

Business success often depends on how well we're able to embrace change and strive for leadership, motivation, and sales in our professional lives. People who strive for change and self-motivation tend to be more successful in their relationships and more productive with their businesses. Throughout the endless options of leadership and motivational guides, one question remains. How to find the right strategy?
Phoenix motivational speaker Michael Wigge has had his share of dream businesses, turning his passions into professions. He started his own niche working as a travel-challenge TV personality. However, things looked very different in the early part of his life. But Wigge embraced the necessary change for business success. After this transformational time, his life was never the same.
In his rousing presentations and keynotes, the Phoenix motivational speaker & keynote speaker describes the importance of one's passion, vision, belief system, purpose, and values in finding the ultimate business success. Wigge serves the US with his keynotes and travels worldwide to deliver his messages.
"Everyone can be the best entrepreneur if they actively decide to go for it."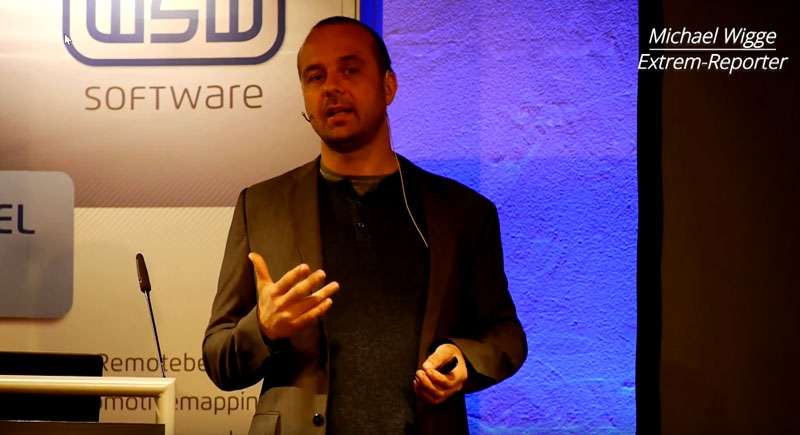 Phoenix Motivational Speaker on The Tonight Show
Phoenix, Arizona Motivational Speaker & Keynote Speaker:
"Thinking Beyond Usual Structures Will Encourage Innovation"
In his fun, interactive keynotes, Phoenix motivational speaker Wigge explains the process of developing  passion to achieve any desired business goal.
The four cornerstones of his business strategy are:
Change management
Leadership
Self-motivation
Sales success
During his keynotes in Phoenix, Arizona, Michael provides the know-how to motivate audience members to achieve their work-related dreams, go for ambitious goals within their company, and to use their talents more effectively. Feel free to contact him for a free quote.
The Arizona keynote & motivational speaker serves all major meeting destinations in Arizona. He recently spoke at Scottsdale Parada Expo Center, 7320 E Earll Dr, Scottsdale, AZ 85251, USA, Phone: +1 480-945-0700. Wigge loves helping out meeting planners with great information for their conferences in Phoenix and Scottsdale:
Phoenix is the United States' fifth largest city with a population of 1.6 million people. The great metropolitan area covers Scottsdale as well and contains 4.5 million inhabitants. Phoenix, Arizona has an incredible size of 2,000 square miles. Phoenix and Scottsdale are the United States' sunniest cities with 85% of sunshine each day. This enables the area to have 200 golf courses for recreational fun all year round.
Watching national sports is BIG in Phoenix. If you have a night off from your conference, you could attend a game of either the Arizona Cardinals (NFL), Arizona Diamondbacks (MLB), Phoenix Suns (NBA), or Arizona Coyotes (NHL). If you're into race sports, the ISM Raceway is the place to be for NASCAR motor races.
Great accommodation usually makes a meeting an unforgettable event. This Phoenix, Arizona motivational speaker & Scottsdale keynote speaker  highly recommends the DoubleTree Suites by Hilton Hotel Phoenix on 320 N 44th St, Phoenix, AZ 85008, where he usually stays for his meetings in Phoenix. His hotel of choice in Scottsdale is the 3 Palms Hotel on 7707 E McDowell Rd, Scottsdale, AZ 85257, USA. This budget choice surprises with its incredible service and comfort, and an awesome swimming pool. Enjoy your stay, and have a great conference. Gigmasters and Bigspeak can deliver more background info on this motivational keynote speaker for Scottsdale, Arizona.
Washington DC; Austin, Texas; Charlotte, NC North Carolina; Denver, Colorado; Miami, Florida; Dallas, Texas; San Diego, CA; Las Vegas, Nevada;  Seattle, Washington;  Minneapolis, Minnesota; Jacksonville, Florida; Detroit, Michigan; Salt Lake City, Utah; San Francisco, California; Phoenix Arizona;  Nashville, Tennessee; Boston, Kansas City; Video Speaker; TEDSpeaker; Business,  Speaker Wanted; College Motivational; Change Management; Leadership Speaker; Sales Success; Professional Speaker; Top Inspirational; Conference Motivational; High School Motivational; Comedic Motivational; Comedic Motivational.