NW Keynote Speaker for Seattle, Portland Oregon, Olympia,  Vancouver, Hawaii, Alaska
International travel writer and motivational speaker in Seattle & Portland, Oregon – Michael Wigge – invites you to his offering:
Motivational Speaker Michael Wigge:
Keynote speaker in the North West including Olympia,  Vancouver, Hawaii, Alaska
Unique life story presented on The Tonight Show, and on The Today Show
Several motivating keynote angles
Fun entertainment presentations
Keynotes, workshops, breakout sessions, round table discussions
Free books for all, signed by Michael
Free quote: Event booking without speaking bureau
For top reviews check out the review section
Wigge has an amazing travel portfolio. He traveled the world for free, traveled all 50 U.S. states in 50 days, he traveled the world and bartered an apple for bigger and better to get a house in Hawaii , and  traveled European cities blindfolded. He has presented his books on the Tonight Show and on the Today Show.
His keynotes can be booked on change, sales, motivaton, and leadership.
Motivational keynote speaker Michael Wigge points out how ambitious goal setting can change your mindset. Wigge forwards in detail how to leave one's comfort zone to develop an entrepreneurial mindset to be able to embrace any kind of change, and to self-motivate oneself in difficult situations. Achieving new goals can be a path towards personal and business growth and to reduce fear and overcome obstacles. The top motivational speaker in Seattle & Portland, Oregon serves associations, corporations, and colleges nationwide and internationally.
Seattle & Portland, Oregon Motivational Speaker & Keynote Speaker Wigge
The motivational keynote speaker in Seattle and Portland, Oregon offers keynote programs like 'Challenge-4-Change Leadership Success' and 'Challenge-4-Change Sales Success'. These programs do help prepare employees and executives for professional success in a globalized world that requires an intercultural and cross-generational understanding. The TV adventurer points out through his humorous challenge experiences how to avoid cross-cultural cross-generational "no-no's" and how to find unexpected inspiration throughout the journey of business success.
As many leaders are under pressure, part of Michael's motivational  keynotes focus on his project "How to Travel the World for Free." He offers through this self-experiment tips and experiences on how to embrace change, and how to self-motivate in difficult circumstances.  During his trip around the world with no money, the top motivational speaker, and four times book author had to embrace change not just on a daily basis but even hourly. The keynote speaker ate for free by using the barter system, obtained free flight tickets by offering creative services like pillow fighting, and used online technology for free accommodation and to make new friends. Perfect strategies on self-motivation had to be the background of this challenge!
Corporate America has the opportunity for an incredible learning experience and for lots of fun with with Portland/Seattle motivational speaker Michael Wigge – one of the top keynote speakers in Seattle and Portland, Oregon. Enjoy his highly entertaining presentations! Especially executives are often highly entertained and inspired by his keynote programs.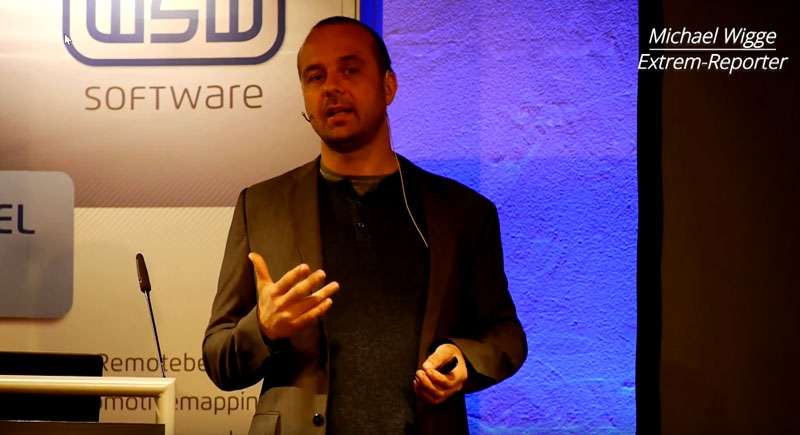 Wigge on The Tonight Show
Wigge – top keynote speaker of 'Gigmasters and Bigspeak' with great reviews – has delivered keynotes and trainings at many event locations in Seattle and Portland, Oregon like the Washington State Convention Center, 705 Pike St, Seattle, WA 98101, USA before. – The motivational speaker in Seattle & Portland, Oregon loves to help out meeting planners about their local tips for an amazing  stay in the United States North West. Here some information:
The motivational speaker from Seattle and Portland, Oregon has forwarded local facts and information on America's North West: If you are in Seattle for a conference, don't miss out to take some time off to see the beautiful 605-foot-tall Space Needle. It offers you a 43 seconds elevator ride, and you'll be amazed how breathtaking the top's view can be. Seattle has the incredible number of several thousands of restaurants in town, which vary in all possible styles and tastes. Don't miss out to spend some time in the museum of pop culture, since it offers a unique overview and collection of pop culture in the United States. Seattle is also known for its beautiful hotel scene. Michael Wigge often stays in the comfortable Sheraton Grand Seattle Hotel on 1400 6th Ave, Seattle, WA 98101, USA•+1 206-621-9000. This centrally located pearl offers all amenities you would need to enjoy a great stay in Seattle for a conference or meeting.  Michael recommends as a perfect budget option with a high standard of cleanliness, the Homewood Suites by Hilton Seattle Convention Center. Have a great stay in Seattle!

Portland, Oregon an Seattle motivational speaker, Michael Wigge, also likes to share information on Portland. Tips and recommendations for meeting planners: Michael has delivered his entertaining keynotes at the Oregon Convention Center on 777 NE Martin Luther King Jr Blvd, Portland, OR 97232, USA in 2014 and 2017. His most favorite hotel in town is the Paramount Hotel on 808 SW Taylor St, Portland, OR 97205, USA•+1 503-223-9900.  This amazing high comfort hotel offers a unique service for an incredibly reasonable price. Motivational keynote speakers in Portland, Oregon and Seattle also highly recommend this hotel for your next conference stay.  What to do in town when there's some time off from the conference? Obviously, everyone knows about the sales-free shopping. But there's so much more to Portland, Oregon. Did you know that Portland has one of the richest arts and music scenes in the entire United States? You'll find live music bands, contemporary artists, art galleries, and unconventional party ideas all over town. Portland is a hub for out-of-the-box-thinkers and alternative life stylers with a sense of success. Enjoy your stay!
Washington DC; Austin, Texas; Charlotte, NC North Carolina; Denver, Colorado; Miami, Florida; Dallas, Texas; San Diego, CA; Las Vegas, Nevada;  Seattle, Washington;  Minneapolis, Minnesota; Jacksonville, Florida; Detroit, Michigan; Salt Lake City, Utah; San Francisco, California; Phoenix Arizona;  Nashville, Tennessee; Boston, Kansas City; Video Speaker; TEDSpeaker; Business, Speaker Wanted; College Motivational; Change Management; Leadership Speaker; Sales Success; Professional Speaker; Top Inspirational; Conference Motivational; High School Motivational; Comedic Motivational;