Los Angeles, Oxnard, Santa Barbara, Ventura & San Diego Keynote Speaker
Would you like to improve your next business meeting or convention and you consider a motivational speaker in Los Angeles, CA or in San Diego?  Are you looking for outstanding keynotes on sales, leadership, change, or motivation?
How Motivational Speaker Michael Qualifies:
Belonging to the top 25 speakers in the country
Keynote speaker serving as well: Orange County, Oxnard, Santa Barbara, Palm Springs

Unique stories shared on the Tonight Show, NBC, PBS, ZDF
Keynotes, trainings, coaching, workshops
Audience entertainment for corporate events
Free & signed challenge books for everyone
Free quote for your corporate event booking – no bureau or agent
Are you looking for a keynote speaker inspiring your audiences with sales strategies and leadership solutions that can turn the current level into the extraordinary?
As a motivational speaker, Tonight Show and Today Show guest Michael Wigge, supports associations and corporations in delivering presentations on goal setting, leadership, sales, and motivation that usually take companies and audiences to the next level. Whether in marketing, sales, leadership, or change management, the Los Angeles & San Diego motivational speaker will help you identify the steps and strategies that will take your meeting to the next level.
Motivational Speaker Reel for Los Angeles and San Diego Events

Los Angeles & San Diego Motivational Speaker serving Orange County, Oxnard, Santa Barbara, Palm Springs
The Los Angeles, San Diego, CA motivational speaker usually delivers 60-minutes business keynotes and full day workshops in Southern California and nationwide. These keynotes are important to reflect on your meeting participants' goals, set up an action plan for everyone, and position the entire company to overcome obstacles—whether relational, emotional, tactical, or financial—that will help you to succeed with your business. The award-winning author also develops structure and clarity for moving forward with renewed confidence and enthusiasm.
These sessions tend to embrace massive changes for his clients. Challenges have a way of becoming either assets or a strategy for setting you apart in a noisy world if looked at from the right perspective.
What Qualifies Wigge to Be a Top San Diego Motivational Speaker?
Michael is a serial entrepreneur. In 2002, he started presenting TV shows in Germany. In 2005, he started a production company to produce his own series of programs and books such as How to Travel the World for Free (PBS), How to Barter for Paradise, and 50 States of Wigge.
He has been aired as a guest on The Today Show and The Tonight Show to present his books, and more recently started my CMW  business consulting and leadership speaker business in the US. His most popular keynotes are "Challenge-4-Change Sales Success" and "Challenge-4-Change Leadership Success".
Wigge knows the ups and downs of leadership in business, and how to motivate and inspire with the right mindset.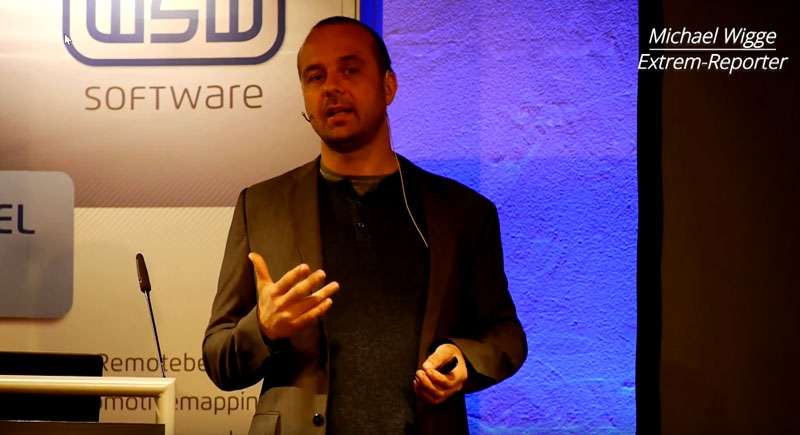 Los Angeles Motivational Speaker on The Tonight Show
What are the details of Wigge's keynotes?
His keynotes are a two-part process. The sessions on stage help everyone to understand, reflect, and plan. After his session, Wigge creates challenges for all meeting participants to tackle as "fieldwork." This could mean communicating with competitors in order to gather market research, following through on the preliminary phase of a marketing plan, or anything else he identifies as the next key step to moving the needle for the success of your business.
One thing the motivational keynote speaker  can tell you for sure, it will mean leaving your employees comfort zone and overcoming their fear of the unknown. Such fieldwork is usually the key to the kind of changes that will help your business succeed.
Serving events of all major meeting destinations nationwide with best reviews. Feel free to view his review section.
San Diego/Los Angeles motivational speaker Wigge has delivered many keynotes to audiences in Los Angeles and San Diego before: Los Angeles Convention Center, 1201 S Figueroa St Los Angeles, CA 90015, lacclink.com, Phone +1 213-741-1151. Check out his tips and recommendations on Los Angeles and San Diego as a meeting destination:
Did you know that the residents of Hollywood banned alcohol sales in 1904? Did you know that the famous Hollywood letters were put up in 1923, but they had a size of 50 ft, five feet more than the letters have nowadays?  Did you know that Hollywood has already honored almost 2,500 celebrities with its famous Hollywood stars? Did you actually know that Los Angeles' economy is vast and bigger than the economies of entire countries like Switzerland, Saudi Arabia, and Sweden?
Last but not least, fun facts on Los Angeles and Hollywood: Did you know that the famous Hollywood sign started off as Hollywood sign?–Anyway, if you're in Los Angeles for a business meeting or conference, you might like to have some great hotel recommendations. The Los Angeles & San Diego motivational speaker usually resides in the Hollywood Roosevelt Hotel on 7000 Hollywood Blvd, Los Angeles, CA 90028, USA.  This modern Hollywood revival hotel gives you the real Hollywood feel you may be looking for to turn your conference stay into an unforgettable trip. His budget – but still high quality option – is the beautiful  Hotel Hollywood on 6364 Yucca St, Hollywood, CA 90028, USA. It combines great prices with good location and an incredible standard of cleanliness. Enjoy your conference in Los Angeles with motivational speaker Michael Wigge!
San Diego motivational keynote speaker advice: Did you know that San Diego's largest employer actually is the Navy? And did you know that San Diego is the US city with the highest farm ratio? Yes, San Diego has the incredible amount of 7,000 farms, no other US city can possibly beat this. San Diego is just fabulous: Temperatures usually range around 70 degrees all year round. Which city can possibly offer this unique climate?
Palm Springs isn't less interesting at all if you look at its incredible facts. The city has the highest concentration of mid-century modern architecture, which give Palm Springs a very unique flair of time traveling to the 1960s. And guess, which place has the most swimming pools per capita in the United States? Yes, Greater Palm Springs offer 50,000 pools which is very hard to beat by any other city in the US. Wigge has presented his keynotes at Palm Springs Convention Center 277 N Avenida Caballeros, Palm Springs, CA 92262, USA +1 760-325-6611 before. Feel free to contact the San Diego/Los Angeles motivational keynote speaker now! 'Gigmasters and Bigspeak' provide more information on the speaker.
Washington DC; Austin, Texas; Charlotte, NC North Carolina; Denver, Colorado; Miami, Florida; Dallas, Texas; San Diego, CA; Las Vegas, Nevada;  Seattle, Washington;  Minneapolis, Minnesota; Jacksonville, Florida; Detroit, Michigan; Salt Lake City, Utah; San Francisco, California; Phoenix Arizona;  Nashville, Tennessee; Boston, Kansas City; Video Speaker; TEDSpeaker; Business, Speaker Wanted; College Motivational; Change Management; Leadership Speaker; Sales Success; Professional Speaker; Top Inspirational; Conference Motivational; High School Motivational; Comedic Motivational;