High School Motivational Speaker
High School Motivational Speaker at Large in 2019/2020
High school motivational speaker Michael Wigge serves as an outstanding high school speaker around the United States. The German native and Denver-based speaker has had outstanding media appearances on The Tonight Show and the Today show based on his self-motivated adventures.
How to Travel the World for Free (PBS reality show)
Trade Up Around the World (bartering from an apple to a house)
50 States of Wigge (50 states of the US)
Germany by Razor Scooter (2000 miles in 80 days)
6 Cities, 12 Days, One Sleeping Mask (exploring Europe blindfolded)
The high school motivational speaker uses his comedic adventure background to deliver important messages for students all over the United States. His most popular high school keynotes are:
The Traveling Mindset – Get Out and Go!
How to Travel for Free and See the World
Leaving Your Comfort Zone – Life & Career without Fear
Diversity 101
The Challenger Mindset
High schools have the choice to focus on one of the motivational speaker's challenges combined with one of the keynote topics outlined above. You can find more information on his five challenges below in the following videos.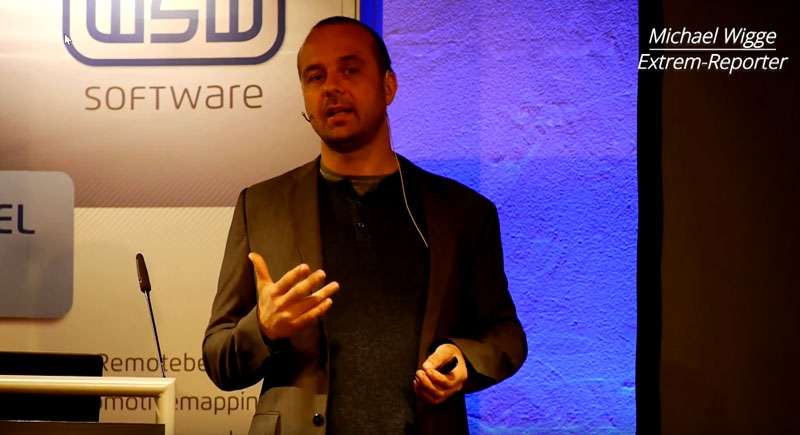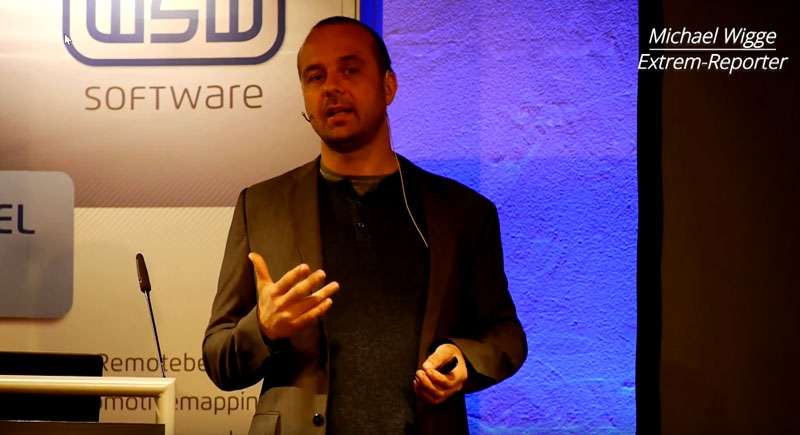 Change Management Keynote
More High School Keynotes
'High School motivational speaker Michael Wigge motivated our grad students with his incredible energy, and he was funny too!'
Peter Claren, Mauritius High School in Bueren

High School Motivational Speaker – Humor and Motivation!
High School Speaker: Challenge 1
High school motivational speaker Wigge's most popular adventure challenge is How to Travel the World for Free. Wigge traveled 25,000 miles from Germany to Antarctica without any money for food, accommodation, or travel . He used the barter system to get all these things for free. Incredibly, he bartered a joke for food and worked as a British butler to get a plane ticket financed. Wigge even made it for free to the famous Inka site of Machu Picchu in Peru by working as a porter for tourists.
This high school motivational speaker was invited on The Tonight Show and Today show to discuss his book How to Travel the World for Free for the American audience. The TV show of the same title was aired on PBS nationwide.
The high school keynote based upon this adventure challenge is highly popular with high school students due to the fact that they can relate to the idea of not having much money while wanting to experience an adventure like world travel.
High School Motivational: Challenge 2
Wigge's second challenge Trade Up Around the World – Bartering from an Apple to a House in Hawaii inspires high school crowds due to its sky's the limit message. The speaker traveled around the world for almost a year. This time he used money for travel, but he started his bartering journey with a bitten apple and continued bartering for bigger and better things in the hopes of gaining a Hawaiian home within a year. This amazing trip was filmed by a camera crew for ZDF German national television.
After 14 countries and 42 artful barter deals around the world, Wigge managed to achieve his incredible goal, calling himself the proud owner of a quarter of an acre piece of land on the Big Island in Hawaii. A house is part of the beautiful jungle property, all achieved through incredible barter deals.
This stunt was broadcast on national television in Germany as six 45 minute shows. The book was published in several countries. It came out in the US under the title How to Barter for Paradise, and was reviewed by major newspapers like the Hawaiian Star Advertiser.
High School Motivational Speaker: Challenge 3
Wigge wanted to get to know his new home country – the United States.
50 States, 50 days, 50 Challenges is the theme of his incredible third story 50 States of Wigge. Is it possible to explore all 50 US states in 50 days and face a unique challenge in each of its 50 states?
Wigge drove almost 15,000 miles through 48 of the 50 states, slept in the back of his truck, and basically jumped out each day in another state to face the next challenge. This incredible road trip offers unique insight into America through the viewpoint of this German motivational high school speaker.
The high school audience is taken on a wild ride across America with Michael. They become part of a keynote full of amazing images and videos showing how Wigge faced specific state-related challenges on a daily basis. Students see him jumping out of his truck before running down into the Grand Canyon with a time limit to be back up at the rim. They also see him caught in a sandstorm in North Dakota while learning about cultural, political, and geographical facts of the United States.
This challenge was broadcast as a two-part documentary and published as a book in Germany.
Motivational High School Speaker: Challenge 4
6 Cities, 12 Days, 1 Sleeping Mask is another of Wigge's incredible challenges – this time to travel blindfolded. Wigge explores how we would feel and get around without eyesight. He relies on his ability to communicate with others, ask for their help, and focus on sounds and smells. 12 days in 6 European metropolises is an incredible self-experiment that brought Wigge to his ultimate limits!
This challenge usually inspires students because it gives them the opportunity to tap into the world of people without eyesight. It helps for a better understanding of others. Wigge supports an understanding of diversity with this keynote. In addition, this high school keynote is highly entertaining and gives all students the opportunity to see Wigge trying to find the Eiffel Tower in Paris wearing a sleeping mask. Clumsy and hilarious bits and pieces are part of this outrageous travel challenge.
Feel free to reach out to Wigge's office at any time. The motivational speaker for high schools and colleges speaks for graduation events and in classrooms, where he gives classes on different subjects, like travel, one's comfort zone, motivation, change, and diversity. You may have a look at his speaking and coaching testimonials to gain better insight and view his amazing video material in the Books & TV section. Wigge's office is happy to deliver a free quote for your next event in the United States.
Youth and teen audiences usually get amazing inspiration out of Michael's keynotes with topics like life goals, personal development, mental health, and travel. Several teachers titled the high school speaker as the 'funniest speaker for teenagers and youth in 2019.'
Last but not least, a few quotes from celebrities who met Michael…
Angelina Jolie: 'Michael is a strange but fantastic man!'
Katy Perry: 'Michael, you must be a cheap date!'
Los Angeles Times: 'Wigge is the ultimate budget traveler.'
Washington DC; Austin, Texas; Charlotte, NC North Carolina; Denver, Colorado; Miami, Florida; Dallas, Texas; San Diego, CA; Las Vegas, Nevada;  Seattle, Washington;  Minneapolis, Minnesota; Jacksonville, Florida; Detroit, Michigan; Salt Lake City, Utah; San Francisco, California; Phoenix Arizona;  Nashville, Tennessee; Boston, Kansas City; Video Speaker; TEDSpeaker; Business,  Speaker Wanted; College Motivational; Change Management; Leadership Speaker; Sales Success; Professional Speaker; Top Inspirational; Conference Motivational; High School Motivational; Comedic Motivational.